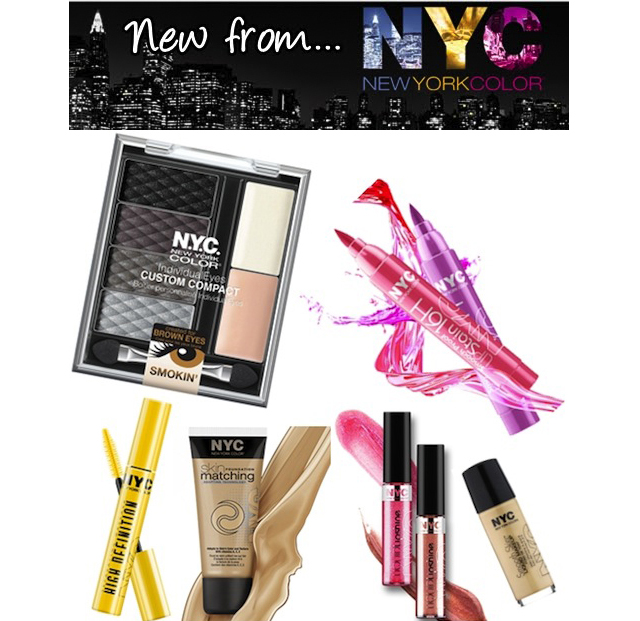 Its no secret that the trendiest colors for spring beauty are bright and bold. As a self-professed makeup junkie, of course I want in on the look! But as a fair-skinned blonde with green eyes, its hard to feel out the divide between a color statement and a clownish mistake. Mathew Nigara, celebrity makeup artist to such stars as Kate Winslet and Diane Von Furstenberg, has been collaborating with NYC New York Color cosmetics line and offered his expertise on how to achieve a perfect overall color scheme, from lips to lashes and everything in between. He even threw in a few extra hints specifically for us fair-skinned femmes. His overall approach? Layer. He opts for sheerer products that allow you to customize your coverage and color intensity. And conveniently enough, all the new NYC New York Color products for spring are created with this very concept in mind. Here are a few of his best tips!

Foundation basics: Nigara suggests using a light-weight tinted moisturizer like the NYC New York Color Skin Matching Foundation and focusing the coverage on the center of your face where your skin needs the most attention. Apply the formula with light finger taps; rubbing too aggressively causes the skin to flushparticularly in paler complexionswhich counteracts the basic benefits of using foundation in the first place.

Concealer coverage: Ensure a truer color by dotting on the concealer instead of swiping it. The Smooth Skin Liquid Concealer from NYC New York Color has a soft and bendable brush designed to work more like a fingertip than your typical stiff wand so it wont deposit an excess of product.

How do you choose a shade of concealer? Is it the same shade as your foundation?
Mathew Nigara: It depends on what youre trying to cover. I have different concealers for different parts of the face in my kit. Different concealers for under the eye, different consistencies Say youre trying to cover a zit, a scab, a scratchits different colored concealers. If youre trying to cover red you want to use peach or orange-based concealer and then go over it with the regular skin toneIf you want to get on top of purple, I have a little iridescent pink concealer that reflects that I would put [under the eye], let it dry and then go with the actual skin color on topjust to give reflection and an incandescence, I like to say, because it illuminates from inside. I dont like a concealer that is too light. It's like a kabuki eye! Its amazing because you think that in your mirror youre actually bleaching your skin, but really when it comes down to it, youre highlighting the bad area. You just want it to disappear. You dont want it illuminated.
Smoky-eye shadowing: Every complexion has a general set of shades and tones that best complements it. NYC New York Color offers palettes of shadows specifically matched to your eye color called IndividualEyes Custom Compact and just recently added a smoky version of each. The look can be customized for your complexion, making it perfect for fair-skinned women looking to transition into wearing more color without it overpowering their naturally pale features. Add the primer as a base to keep your shadow from creasing or fading and dab the illuminator along the brow bone and inner corner of your eye for some extra brightness and shimmer. Finish things off with a defining mascara to make your eyes pop.
What is the best way to blend the different colors of shadows for a smoky eye?
Mathew Nigara: The palette has colors for everybody. For me, the best smoky eye is using one color. But even though theres four colors and all four colors are going to work, I dont really recommend using all four colors together. Use one, use two and thats it. Use the two lighter shades together; use the two darker shades together when you want to go with something stronger.
Lip service: Just as smoky shadow does for eyes, a good lip stain can inject a great pop of color into your spring beauty look in a completely customizable way. The tip of the marker-style Smooch Proof 16HR Lip Stain by NYC New York Color narrows from a wider base for all-over color to a fine point for more precise application. Layer the stain on for a dramatic effect or stick to one coat for a subtle, watercolor wash.
You mentioned you had specific rules for blondes and makeupwhat are some of them?
Mathew Nigara: Yeah, I do. There are not many rules I have, but with blondes and makeup I have rules. I have rules with lips with blondes. I like a pink, a red or browns. I dont like coral or oranges. I love blondes! Blonde is the ultimate feminine, dont get me wrong. Its justyou know what, its the difference between looking like youre from New York orsomewhere else. Its just more sophisticated.
So he may not like the beachy, non-New Yorker shades for blondes, but he did say hes very into the vampy, sultry look right now. He thinks the 1920s flapper look may be making a comeback so be sure to keep an eye out for it on the runways and red carpets. But for now, I'm just excited to go test out my new know-how (and products) from Beauty 101.