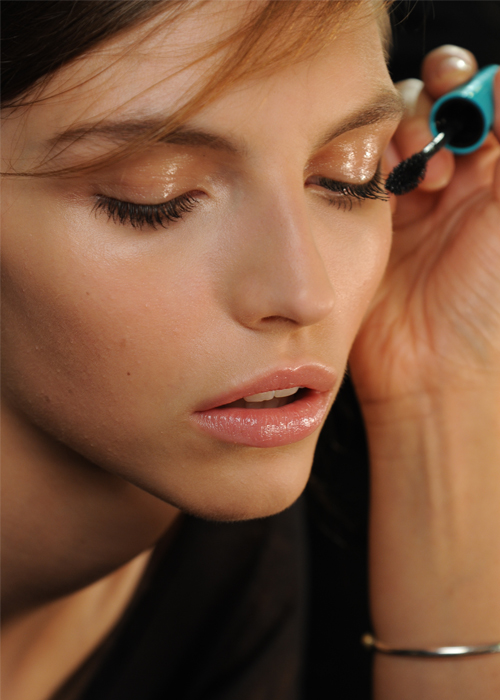 During this sticky, humid time of year the last thing we want are globs of makeup. But long, luscious lashes — those are a year-round necessity. Follow these five rules to get perfect eyelashes without having to revert to time-consuming falsies or expensive extensions.
1. Eyelash curlers are essential. 
Sonia Kashuk, makeup artist and founder of Sonia Kashuk Beauty, swears by lash curlers as the key to giving lashes that "wow" factor. "Be sure to choose one that creates a beautiful upward curl, such as Sonia Kashuk Dramatically Defining Eye Lash Curler [$8.99, target.com], and with a delicate pumping motion, move from the lash base upward for maximum results." And always curl before applying mascara, not after. When bare, "The eyelashes are suppler so the crimping of the lash doesn't feel as damaging," Kashuk explains.
2. Let lashes set between layers of mascara.
Practice a little patience between each coat. "Giving a little bit of air time between each coat will allow the mascara to set and build upon each layer instead of gooping up as one big clump," Kashuk says. One of our new favorite non-clumping mascaras is Topshop False Lash Mascara ($20, us.topshop.com) — the formula adds volume while the wand combs and separates.
3. Prevent "spider lashes" with a lash comb.
Avoid spidery clumps by combing lashes after applying mascara. "A metal-toothed lash comb is key; apply a coat, wait a few seconds, brush through eyelashes, and then apply the next coat." Sonia Kashuk's new double-ended Lashify Mascara ($6.99, soniakashuk.com) comes complete with a lash comb for quick brushing.
4. Don't layer different mascaras.
"I wouldn't recommend this, as some formulas will not mix well and end up clumping," Kashuk says. However, some mixing and matching does work. If there's a wand you perfer over another, clean it off and use with your favorite formula or as a lash comb.
5. Condition and treat your lashes daily.
Just like your hair, your lashes need a little TLC. Lash conditioners, such as Dior Diorshow Maximizer Lash Plumping Serum ($28.50, sephora.com) work as a primer, creating a smooth surface for mascara. Growth treatments like Latisse "stimulate the eyelash growth cycle, making it longer, so lashes come in longer, darker and thicker," says Dr. Elizabeth Tanzi, Co-director of the Washington Institute of Dermatologic Laser Surgery in Washington, DC. Full results take within 2-3 months, while improvements show within 4 weeks.
Read more: Instant Makeover: This Mascara Has False Lashes Beat