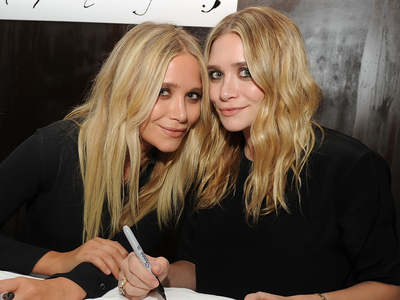 Photo: © Stephen Lovekin/Getty Images for Elizabeth and James Pop Up Shop
Mary-Kate and Ashley Olsen's fashion line is inspired by Savile Row tailors.
The designer duo–who shot to fame as child stars–revealed their The Row Spring/Summer 2011 collection, which was showcased at Paris Fashion Week, continues to concentrate on sharp tailoring and "refined luxury."
Mary-Kate told Britain's Elle magazine, "We wanted to concentrate on tailored pieces. The Row is named after Savile Row and refined minimal luxury is what this is all about. Like the trouser suit and doing the perfect blazer."
The 24-year-old twins had to show their upcoming collection this week after they were forced to cancel their New York Fashion Week event in September due to the late delivery of a number of their fabric samples.
However, the sisters are now happy with the 15 looks that make up the new line. Ashley told WWD, "We wanted to make sure the production was where we wanted it to be and that meant not being in New York."
The creative pair launched The Row in 2007 and have received critical acclaim for the line, as well as their contemporary collection Elizabeth and James, which is inspired by many of the individual pieces in their personal wardrobes.

Try on Mary-Kate and Ashley Olsen's hairstyles in the Makeover Studio!