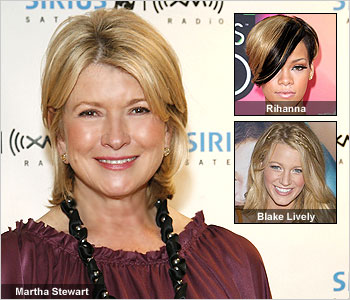 Photos: Martha Stewart © John Lamparski/Wire Image
Rihanna © Jason Merritti/Getty Image, Blake Lively © LAN / Retna Ltd.
Would Martha Stewart still be "Martha Stewart" without her iconic blond hairstyle? It turns out her staff has been wondering the exact same thing, because on May 21, they kicked off their "Beauty Show" episode by taking their boss on a trip down Makeover Lane. Using Daily Makeover's virtual Virtual Makeover Studio, they showed Martha how she would look with some pretty radical hair changes.
"Unbeknownst to me, my staff took it upon themselves to select some new hairstyles for me," Martha says in a clip from the show. "Let's see if any of them were successful." She reviews some of the looks with a nice touch of self-deprecation. "Oh blond…it's like the aging starlet look," she says about her Blake Lively hair. "Oh black hair, no! That doesn't work at all with my skin." "My staff really likes to have fun, so here's the Rihanna look. I don't think it looks good on Rihanna, so it really doesn't look good on me."
Want to see Ms. Stewart's rockin' makeovers? Watch Martha reveal her new Daily Makeover looks!