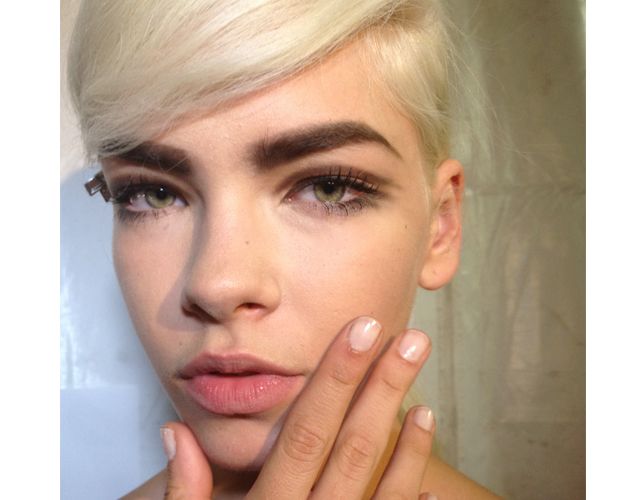 Envision the typical, New York City Marc girl – very chic, very interesting, and with one foot uptown and one foot in a nightclub. The major inspiration behind the hair and makeup at Marc Jacobs' Spring 2013 show was Edie Sedgwick, iconic party queen of the 1960s. Backstage, Redken, NARS and Zoya brought this girl to life, mesmerizing onlookers with the beauty of the overall look.
For the hair, Redken hairstylist Guido used a deep, sideswept part over the forehead like a bang, finished with a rock ponytail in the back. Just before the show, Guido pulled out some hair to make the look a little bit more disheveled, more grunge. To achieve the look, Redken Guts was applied to wet hair to get the rough texture. Once hair was dry, Powder Refresh Dry Shampoo was used, followed by Quick Tease at the root to get the volume desired. "She's the quintessential New York party girl, she's got great style, and I think that's what Marc is trying to get across", says Guido.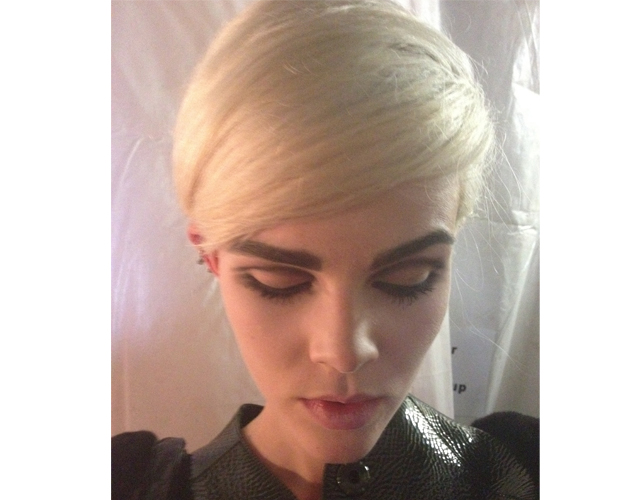 The manicure, created by Elisa Ferri for Zoya, was custom mixed for Marc. "I call this look sexy 70s. It's a three-dimensional look with a pearlescent base of Blossom, and then a top coat that's a mix of Olivia, Cho and Adele. All together, it's Peaches and Cream", Elisa tells us.
Francois Nars, Founder and Creative Director of NARS Cosmetics, worked with Marc to create the makeup look for the show. "When I saw Marc three days ago, he showed me a picture of Edie Sedgwick. We tried to make the look more today, more 2012, but keeping the strong elements of Edie's makeup like the strong brow, strong crease, and monochromatic makeup. There are no false eyelashes, but there's tons of mascara, because we didn't want to keep it too 1960s. We wanted it to be modern. It's a very New York, Marc girl. It's very me, too", as Francois tells us backstage.