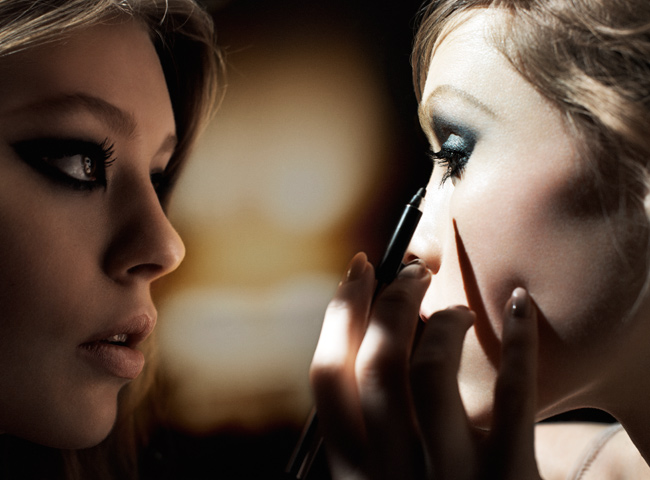 The Marc Jacobs beauty line is arguably the most anticipated designer beauty collection as of late. With the beauty industry waiting with breath that is bated for what seems like forever (in actuality, it's only been a couple of months), customers and professionals alike have high expectations for the iconic designer's collection. Today, the images for the Marc Jacobs beauty campaign were revealed exclusively on Elle.com and we have to say, it was worth the wait.
Of the campaign shots, Marc Jacobs says, "We wanted an image that suggested this love for the ritual of two young women putting on makeup. There's a certain reference to a backstage sort of glamour—or staying home and being in your bathroom and putting on your makeup for hours and talking. The images are meant to stimulate or inspire someone to be irreverent, to enjoy the process, and do what feels right for them. It's about transforming oneself to be the person you'd like the world to see."
Launching Friday, August 9, the 120-piece collection will be sold exclusively at Sephora and Marc Jacobs stores. With an offering ranging from foundations and eyeliners to lipsticks and nail polishes—all of which look amazing in the campaign—we can't wait to get our hands on the entire collection.
Via Elle.com
More From Beauty High: 
Marc Jacobs Beauty Ad: First Look
Get a Sneak Peek of Marc Jacobs' Full Beauty Collection
Marc by Marc Jacobs Fuses Uptown and Downtown Glamour For Fall 2013