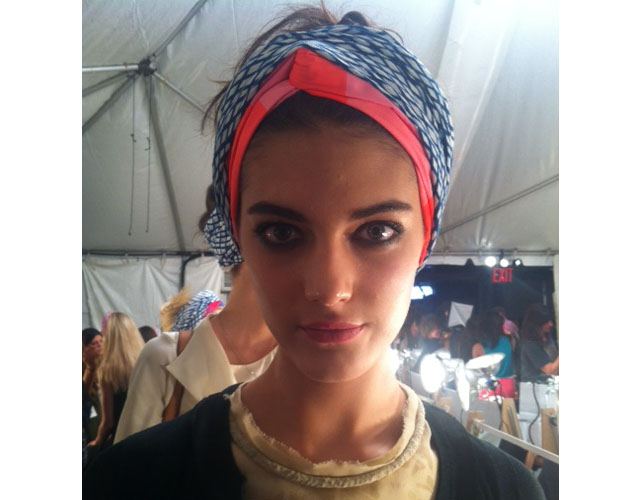 You can always expect a gorgeous flurry of color backstage at Marc by Marc Jacobs, and the Spring 2013 season is right on mark. Makeup artist Dick Page for Shiseido created a "scrubby but sexy" look for the eyes, playing down the bright shades of the clothes and the head wrap. Page wanted to add color to the face in a real way — stating that women in the "real world" are often running out the door (or racing from place to place for 12 hours straight) and sometimes have to rely on the 'ol "spit and swipe" method (which he then demonstrated by spitting on his hands and rubbing away makeup from under his eyes).
Taking this, Page created a smudged shadow look around the rims of the eye with Shimmering Cream Eye Shadow in Sable blended along the entire lower lash line and in the crease. Next, he added Shimmering Cream Eye Shadow in Caviar into the upper lash line to make the line "scrubby" and blended it to create more of a wash. He finished the eye look with a heavy coat of black mascara and added a light pink to the lips with their new spring lipstick, Perfect Rouge in Fantasia.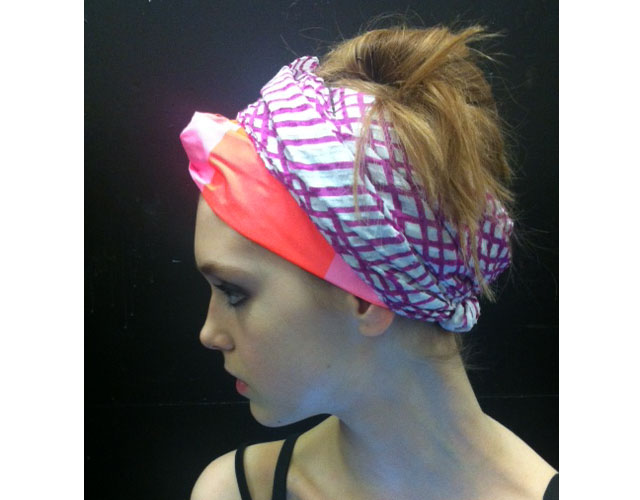 For the hair, Guido for Redken chose to let the bright head wraps be the main focus, and wanted to get the hair up but not in a "twist-y" way. He added texturizer to the hair first and rough dried it, and then tucked the hair back with pins, making sure it was still easy and simple enough and not too tight. The scarves were actually two different scarves tucked together and wrapped around the head — we definitely suggest trying this hairstyle at home!