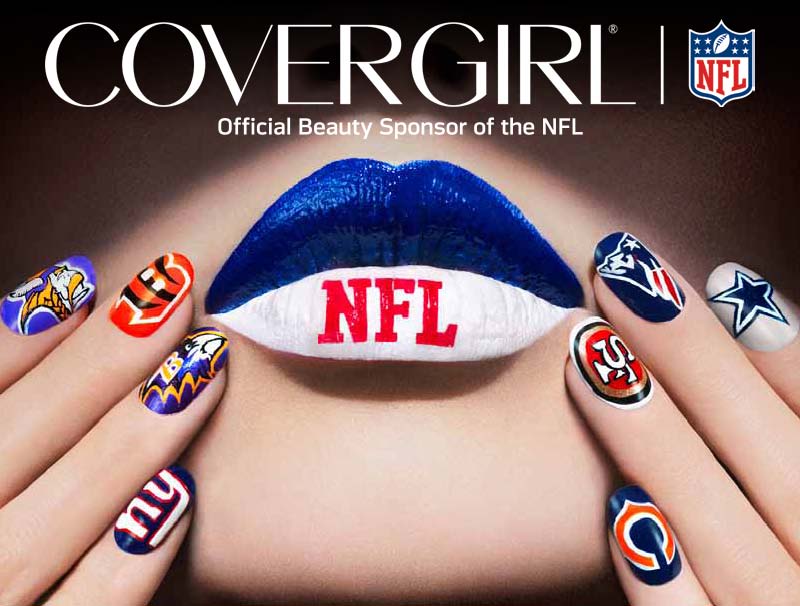 We may be excited for Fashion Week and sweater weather, but fall means one huge thing to the American girls who love nothing more than a tailgate: Football season. Yes, even us beauty obsessed ladies get excited when we see our home team toss around the pigskin. That, friends, is why we were so excited when CoverGirl announced their official partnership with the NFL!
MORE: Super Bowl Nail Art: Get Some DIY Football Nails! 
Beginning on Thursday, September 5, women who love to cheer on their favorite football teams in style can pick up one of the 32 customized CoverGirl Outlast Stay Brilliant Nail Gloss bundles. Complete with each team's uniform colors, ladies who love quarterbacks (and running backs, and the D-line) can cheer on their favorites with, get this, "fanicures" (bonus points to CoverGirl for coining that term).
MORE: Boy-Friendly Beauty: 10 Tailgating Looks He'll Love
We're hoping to see some dedicated fanicure nail art come from these NFL Nail Gloss bundles, and we're hoping that some may even show up in #NailCall. Think your nail art skills can score a touchdown? Tag us @BeautyHigh and use the hashtag #NailCall for the chance for your football-inspired fingers to be featured on our site!
Image Courtesy of CoverGirl