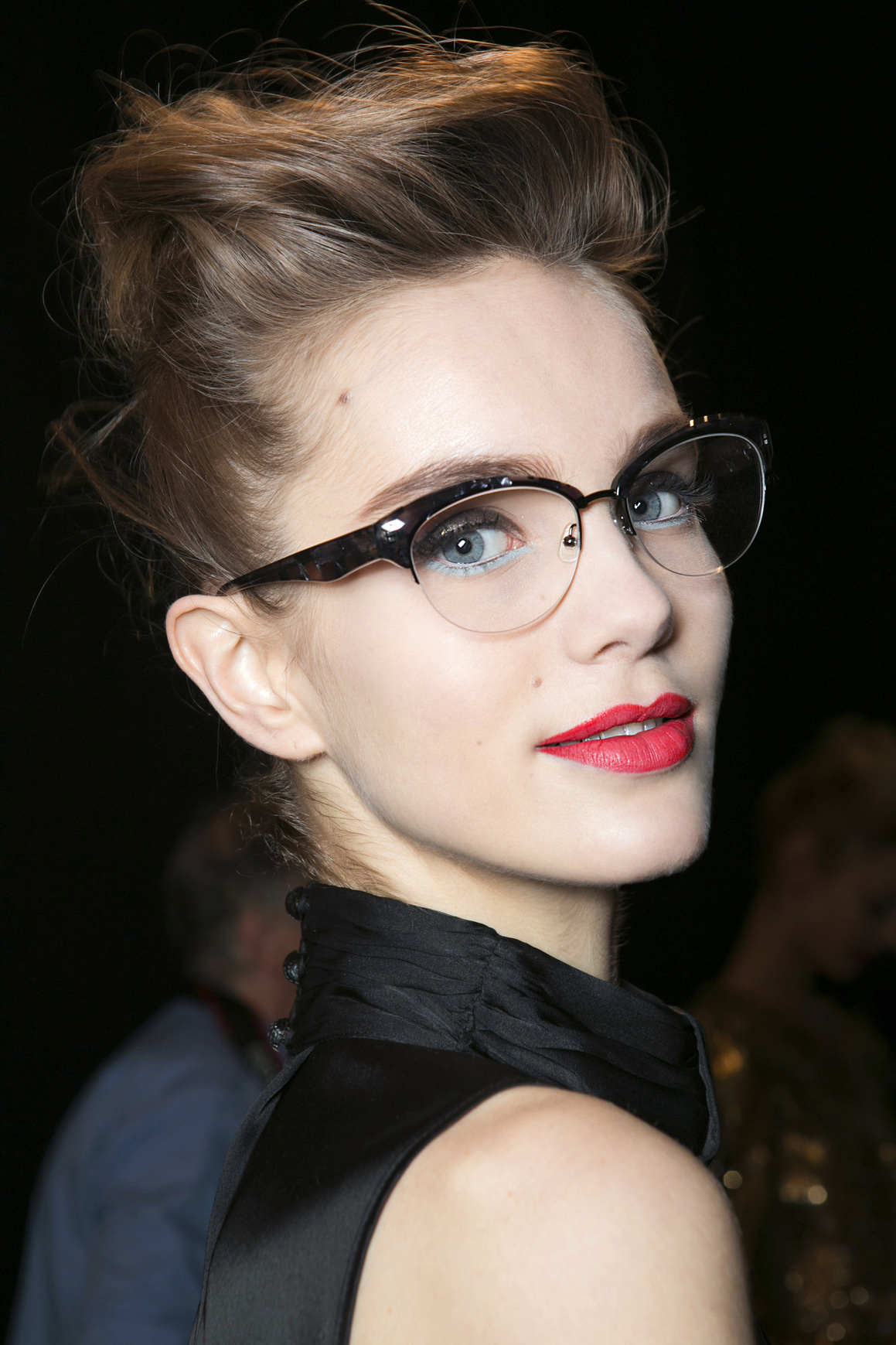 Even with their huge popularity over the past few years, wearing glasses can sometimes be a pain when it comes to figuring out your makeup. Sure, you'll nail the "geek chic" look while you're wearing a pair of thick, square frames, but eye makeup can become a little bit difficult.
So, to help you navigate the terrain that is wearing makeup with glasses, here are eight mistakes you've got to avoid when you're not wearing contacts.
Dark shadows: Save the smokey eye makeup for when you're wearing contacts, because too much dark eyeshadow underneath glasses can make your eyes look way too dark. Instead, go for a light, highlighting shadow color on your lid. For a little bit of extra drama and dimension, use a medium shade color in your crease and blend well.
Liner that matches your frames: Matching your liner to your frames can make your eyes blend in, not stand out. Try, as best you can, to choose a liner that's at least a shade or two lighter than your frames (unless of course your glasses are clear or cream colored). With black frames, use a grey, brown or navy liner, and with brown frames use a taupe or bronze liner. Blend the eyeliner with a cotton swab to give a less harsh look.
MORE: 10 Ways to Look Gorgeous in Glasses
Not curling your lashes: Make sure you're opening up your peepers! Curl your lashes at the root, mid-length and tip before you begin applying mascara so that your eyes look extra wide.
Mascara on your bottom lashes: In general, mascara on your bottom lashes can be a little bit tricky, but especially when you're wearing glasses, skip this. The dark lashes on the bottom plus your frames can cast a shadow on an already dark part of your face, making you look tired.
MORE: 10 Things No One Ever Tells You About: Concealer
Skipping your skin: Yes, the emphasis is typically on your eyes when you're wearing glasses, but that's no reason to skip the rest of your face! Smooth out your skin and even out tone with concealer and a lightweight foundation so that your eyes can really have the spotlight without any pesky red spots.
Anything besides yellow concealer: Under eye circles are wreak the most havoc when you're also wearing glasses, meaning now's not the time to be using the wrong concealer. Opt for a yellow shade to really combat any dark or red discoloration happening.
MORE: Instagram Insta-Glam: Gorgeous in Glasses
Thin with thick: Thick frames call for thick eyeliner, just as thin frames call for thin eyeliner. Don't mix the two, which can under or over-exaggerate your eyes in a bad way.
Forgetting your brows: Sometimes we focus so much on what's behind the frames that we forget to look up! Remember to brush through and tweeze your eyebrows, which are framing your frames, and if you're feeling a little daring, use a bit of brow gel to really emphasize them.
Image via Imaxtree