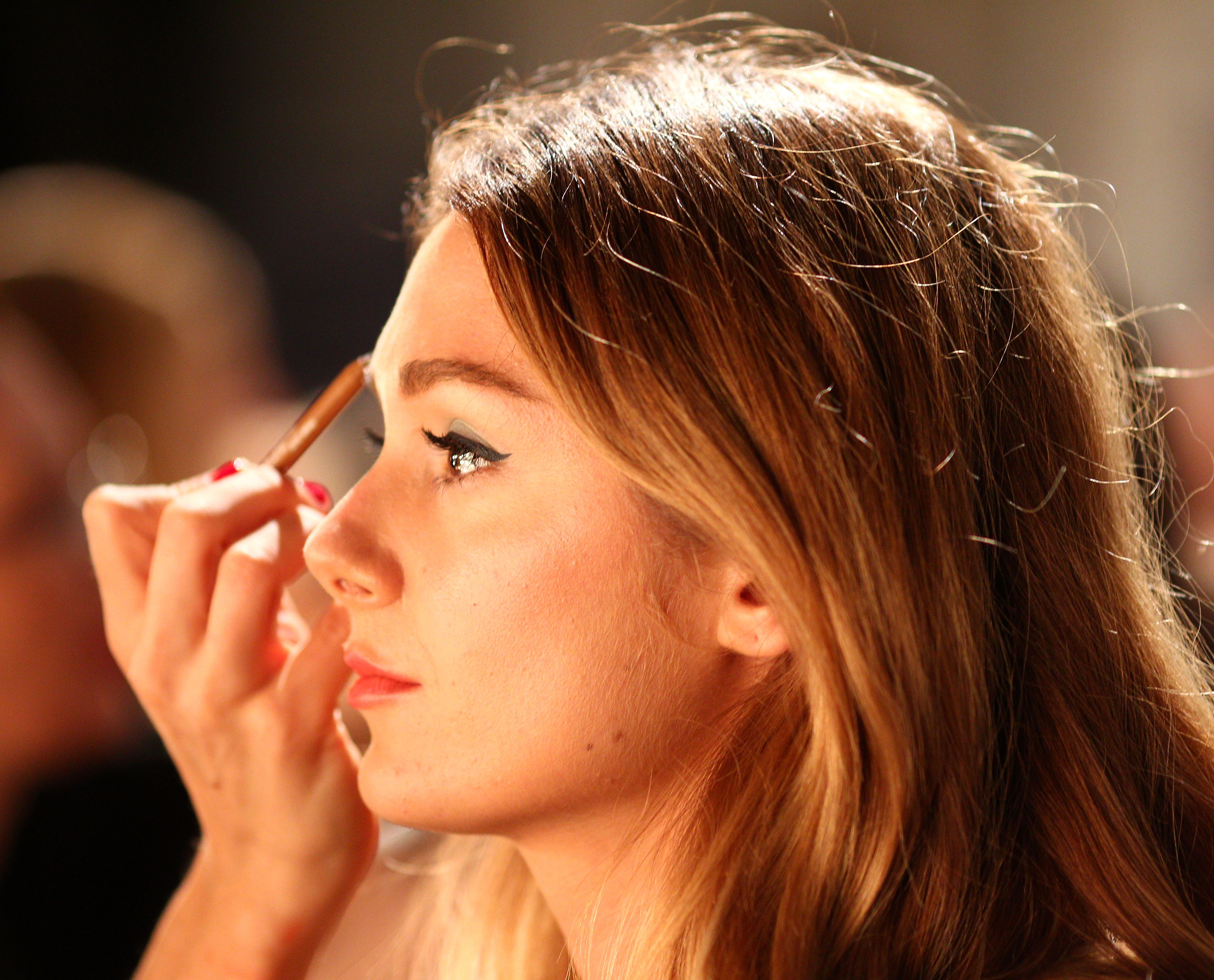 "You look tired." It's one of the most annoying things a person can hear, especially after they've taken the time to do their hair and put on their makeup. Yet it was the phrase a co-worker greeted me with every day for almost a year. The worst part? I don't think she was being passive agressive. She seemed genuinely concerned that I wasn't getting enough sleep at night. I tried slapping on more concealer, started actually wearing foundation (instead of my usual tinted moisturizer), and yes, tried to get more sleep. It didn't work; I still got interrogated each morning about my sleeping habits.
While sticking her face in a sinkful of ice is Kate Hudson's favorite trick for looking more refreshed, I wanted something a little less jolting in the morning, so I spoke to Mark makeup artist Jamie Greenberg. It turns out a lot of women are getting their makeup wrong, which results in a less-than-fresh complexion. Here are some of the most common mistakes:
The Mistake: Applying heavy concealer under the eyes in the wrong shade. "It ends up looking cakey and making eyes look dry and even more tired," says Jamie.
The Fix: Moisturize your eye area with a good day and night eye cream, like Rodial Dragon's Blood Eye Gel ($50, rodial.co.uk). And instead of trying to go darker and heavier with your concealer, opt for one that matches your skin tone. Choose a concealer with more pigment so you won't have to cake on multiple layers.
The Mistake: Using eyeliner or eye shadow in pink or reddish hues. "There's definitely a time and place for this," says Jamie. "But when you're tired, it will only bring out the red in your eyes, which is not what you want to accentuate."
The Fix: Try a dark brown or black liner, and if you want to add a pop of color, go for shades in the blue/green family. White or peach-colored liner on the inner rims of your eyes can also help them look brighter.
The Mistake: Wearing a heavy smoky eye. "A lot of women think 'the more the merrier,' so they pile on dark shadow, but it only closes the eyes and makes them look small and weary," says Jamie.
The Fix: Try a metallic cream shadow, like Maybelline Color Tattoo in Bad To The Bronze or Bold Gold (each $6.99, ulta.com) for a dramatic look that doesn't make you look so tired.
The Mistake: A flat-colored face with no added makeup definition.
The Fix: "I love a flushed cheek," says Jamie. "Mark's Just Pinched Instant Blush Tint ($8, meetmark.com) is great for adding a little dimension to your face and is easy to apply."
The Mistake: Going out pale as a ghost.
The Fix: Even fair-skinned ladies can fake a little color with Mark's Glowdacious Illuminating Powder ($13, meetmark.com). "Looking tan will wake you up instantly," says Jamie.
If you still feel like you're looking a little sluggish, try focusing your attention on your eye makeup. To open up eyes, try applying individual lashes to the outer corners of your eyes. This will create the illusion of wider eyes. Jamie also suggests filling in the upper lash line. "It's my favorite trick. You can't see that you have makeup on, but boy does it make those eyes wide." Lastly, put your mascara to use. "Applying mascara opens up the eye and defines it, making you look awake and alert."