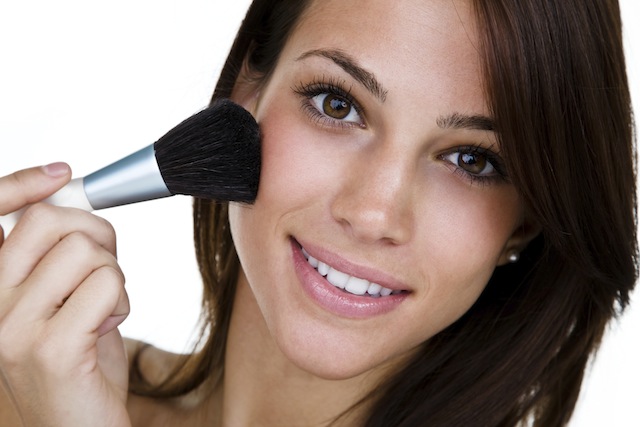 If there's one thing that can ruin our day faster than discovering lipstick on our teeth or smudged mascara, it's a breakout — or worse, full-blown acne. Whether you get the occasional spot or suffer from a more chronic case of the skin issue, it's probably been the cause of angst and many makeup mistakes trying to cover it up. (We've pretty much all been guilty of spreading on one too many layers of foundation and concealer.)
To get an inside scoop on how to disguise blemishes the right way, we turned to BECCA's Style Director and National Makeup Artist, Kerry Cole. Here, four tips for girls who have acne-prone skin—or just get the once-in-a-blue-moon breakout.
MORE: Banish Clogged Pores for Good With These Tips
Avoid Cake Face
Unfortunately, not even the best coverage makeup can make your face look completely flawless, and the more you layer, the more attention you call to your less-than-perfect complexion. Your solution: Find a full-coverage formula that works for you—meaning it looks and feels weightless, and, of course, doesn't break you out further. Cole specifically recommends BECCA's Ultimate Coverage Complexion Crème, which she calls "coverage without the cake" and "confidence in a bottle."
MORE: Ask an Expert: Should I Be Using Skin Lightener? 
Pick the Right Primer
Go green—with your primer, that is. Cole recommends using primer that reduces redness and/or calms your skin, and a green-based formula is the way to go.
Ditch the Glitz
Wanting to avoid adding color on top of splotchy skin is understandable, but you don't necessarily have to forgo a rosy glow or sun-kissed complexion. Girls with acne-prone skin can definitely wear blush and bronzer, says Cole. The trick is to avoid glittery or sparkly formulas—these kinds of products can make imperfections look worse and call attention to pores. Swap out the shimmer for a matte version to add some healthy color to your face—without highlighting your acne.
Toss Your Sponges
Sure, they look innocent enough, but sponges can actually do more harm than good. "These can breed and spread bacteria, which can ultimately lead to additional breakouts," says Cole. Go for makeup brushes—she recommends BECCA's One Perfecting Brush, which is naturally antimicrobial—and make sure you keep them clean!
Image via Stock Shop Photography LLC