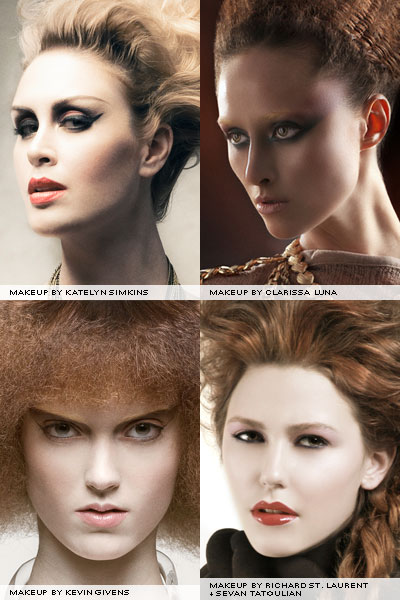 The North American Hairstyling Awards (NAHA's) are almost here and we can't wait to see which talented stylists, colorists and makeup artists are going to take home the top prizes.
We've already spoken to the Master Hairstylist and Haircolor nominees; now it's time to hear from the pros in the Makeup category.
Whether it's creating the ultimate red lip or perfecting an avant-garde smoky eye, these seasoned artists are masters with their makeup brushes. We asked them to give us their best get-gorgeous makeup tips. Here's what they had to say:
Clarissa Luna, Jackson Ruiz Salon, Austin, TX
"A great tip for applying makeup is to start with your eyes first. This way, if you have fall-out from your eye shadow, it's easy to clean up, without ruining your concealer and foundation, and also without the hassle of having to redo your face. Doing this will take time off your whole makeup application, because let's face it, who has time to do anything in the morning?"
Richard St. Laurent & Sevan Tatoulian, Pure Salon, Montreal, Quebec
"Update your makeup as you get older; the makeup you used to wear in your 20s won't work in your 30s."
Kevin Givens, TIGI, Lewisville, TX
"Your daily routine should be:
9 a.m.: Mascara, lip gloss, concealer (one light coat, even for a trip to pick the kids up).
3 p.m.: Mascara, lip gloss, concealer.
7 p.m.: Repeat, and make him take you somewhere nice for dinner.
Think of mascara, lipgloss and concealer as your American Express Card: Never leave home without them."
Katelyn Simkins, Click Salon, Denver, CO
"I would say that one of the most important things for the average makeup-wearing woman NOT to do is over-apply products. Use them bit by bit, in small increments, to build up to the correct amount of coverage and/or color intensity. Too much of anything can take a look from glamour to garbage in an instant."
Ericka Brannon, Dusty Simington, Huntington Beach, CA
"Before starting your makeup, you should have one particular focus of the face in mind. Avoid having too many, so that your makeup look stays trendy and modernized! When women apply their eye makeup, they should make sure both eyes are open with their head tilted back for a perfect view of the structure of their eyes."


Try on makeup in the Makeover Studio!
To find out more about NAHA, visit probeauty.org. NAHA is produced by the Professional Beauty Association (PBA) and will take place on Sunday, July 31, at the Mandalay Bay Resort in Las Vegas.