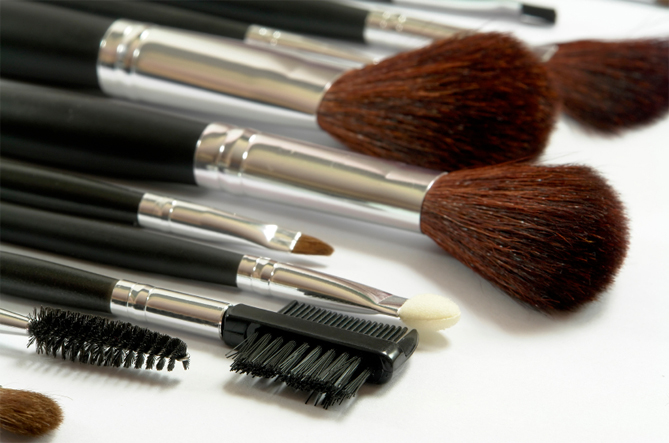 Even as beauty-loving mavens, the sheer volume of beauty tools is getting out of hand. There seems to be a new brush or a pencil or even a sponge to help the average person look like a Kardashian born every single minute, when in actuality all most of us really want to do is look cute enough to get out of the house, runway stride optional.
We called up a dear friend, celebrity makeup artist Tina Turnbow, to get her absolute essential makeup brushes for everyday living. In no certain order, here are Tina's must-haves for the average makeup bag:
The most important thing to remember is that you don't really need a brush for every single product. Really, the most important things to use the brush for are powder products: blushes, shadows, actual facial powder, bronzer and a brow powder if you use it, but you'll need more than a spool-y brush to apply that product.
When it comes to eye makeup brushes, you really need two essential brushes: a medium-sized fluffy brush like the M·A·C Cosmetics #217 Blending Brush to apply a wash of color to the lid and crease (medium-sized), and a firm brush like the M·A·C Cosmetics #239 Eye Shader Brush to apply shadow densely where you're creating a socket, a hollow or a dense application and/or line. The firmer the brush, the denser the pigment, i.e. a heavier application of color. You can always just use your fingers to smudge and define, but if you really want to use a brush to get detailed smudging, you can always use a M·A·C Cosmetics #219 Pencil Brush to really get a more precise application.
As far as liners and brow products go, they usually come with a small brush for application. Those work great, so you can just use those. No need to buy a specific brush. But if you want to get a brush that works for both liner application and for defining brows, I'd recommend the Laura Mercier Pointed Eye Liner Brush. You can also clean this brush and use it to apply concealer very precisely. It's a great tool.
When it comes to bronzer, blush and face products, you only really need two brushes: a blush brush (for bronzer and blush and contouring) and a powder brush for overall application. For powder and bronzer application, I've recently discovered the Sonia Kashuk Wooden Kabuki Brush, which is the perfect shape and quality at an amazing price. If you're a contour kind of gal, go for an angled brush like the M·A·C Cosmetics #168 Large Angled Contour Brush, which you can use for both contour and blush application.
Here's a quick professional tip: I use a blender eye brush – NYX Cosmetics #B10 Blender Eye Brush is a great one – for highlighting powders around the face to add light where it's needed. You can also use it along the t-zone to apply powder so it's not shiny on camera or during a special event.
And as far as a Lip brush? You don't really need one, it creates a heavier look. I usually apply lip liner, then lip stick and I blend it in by tapping with my finger. A touch of gloss over the top for evening impact (if you want that), and you're done.
Just keep cleansers on hand, like a wedge sponge, to get more detail and to perfect the look. Powder can fall sometimes and wedge sponges are great to define a look and make sure it's as clean as possible.
More Beauty 101 Tips From Beauty High: 
101 Best Tips For Clear Skin
Waxing 101: Important Details to Know Before Your Spring Break Bikini Wax
Fitness 101: The Ultimate Guide to Looking Great
Image via Istock