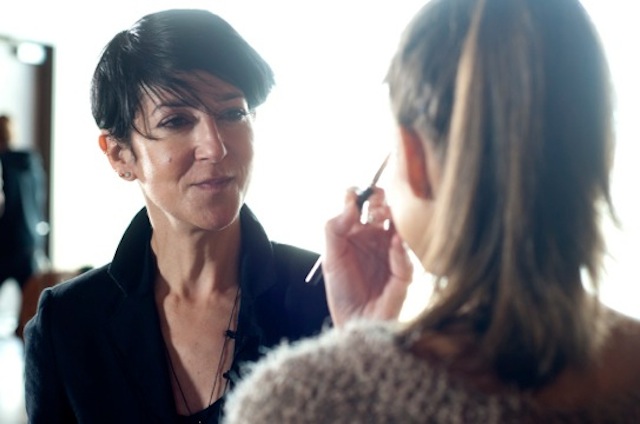 Finding the right hue of foundation is something akin to the Quest for the Beauty Holy Grail sometimes, which makes finding the right concealer even harder. Between multiple hues, formulas (brighten! whiten! hide things!) and features (green cancels out dark circles! violet for redness!) it can seem like a horror movie scene: aisles of complexion products stretching for miles, no sign of the right choice with the clock ticking.
This is when it's important to have really key friends who can answer this for you, which we do. We turned to celebrity makeup artist Tina Turnbow who, in addition to working on multiple fashion shows and big red carpet events, has done the makeup of tons of celebrities, including Carly Rae Jespen, Keri Russell, Claire Danes, Nina Garcia, Mary-Louise Parker, Brooke Shields, and Downton Abbey's Joanna Foggett, just to name a few. Here are Tina's top five tips to finding – and using – the right concealer:
You actually need at least two concealers: Tina suggests having two concealers in your makeup arsenal: one that truly conceals dark spots and imperfections in a stick or cake form like Laura Mercier Secret Camouflage and/or Korres Quercetin & Oak Antiaging Antiwrinkle Concealer, and one that illuminates and brightens, like Yves Saint Laurent Touche Eclat Radiant Touch or Dior Skinflash Radiance Booster Pen.
Wait, you need one more: If you're prone to acne and blemishes, use a concealer with salicylic acid so you can get coverage with acne-clearing benefits. Tina is a fan of Murad Acne Treatment Concealer, which contains acne-busting ingredients to fight breakouts underneath oil-free coverage.
Make sure it matches your foundation: The key to concealer is the added benefit of coverage where the foundation might just not be enough (think of it as an insurance policy). Tina advises getting a concealer that is the exact color as your foundation, which means you will have to switch up your concealer when you change foundations due to changes in your skin tone (winter to summer sun exposure, for instance). Tina suggests always leaning toward products with peach undertones (avoid yellow), which gives the skin a healthy glow regardless of hue.
You can blend them together: Let's say you're having a day where you're not feeling so energetic (too many margaritas on a Wednesday can do that). Layering your coverage concealer over dark circles and undereye bags, then tapping an illuminating concealer over it can bring light to otherwise sunken areas of the face and help you look brighter before that first cup of coffee.
How you apply it is up to you – Tina uses a brush to apply concealer, but sometimes your finger is perfect for applying concealer so it stays put. Liquid concealer goes on beautifully, but sometimes doesn't stay put as well. If you use a brush, look for one that's firm and pointed in a half moon shape. If you use your fingers, wash your hands first and use your pinky finger to gently tap the product in until it seamlessly blends.
Don't look to Photoshop for inspiration: Tina's a big fan of "imperfections" like freckles and unique marks. So, bag the undereye bags and conceal the circles and zits, but embrace your natural face. It's gorgeous!