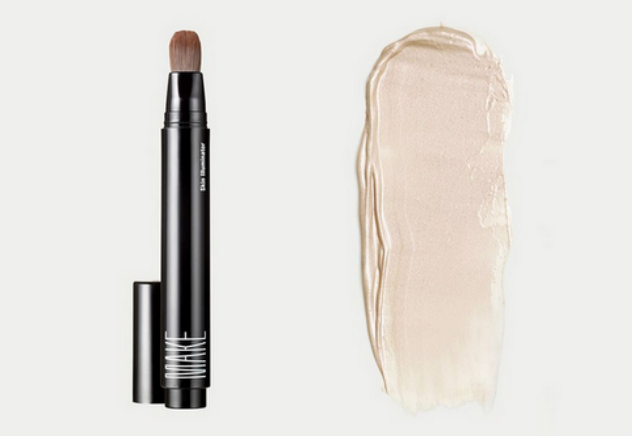 At Beauty High we constantly have new products crossing our desks and are always on the hunt for the next best thing. "The One Thing" is our way of sharing with you that must-have product that you need to introduce to your lives right now, even if it means skipping Starbucks for a couple of days.
Nothing beats a gorgeous glow in the summer time, especially with a sun-kissed tan. We like to use as few products as possible while the temperatures are rising, so finding the good few that make a big difference is essential. When we tried MAKE's Skin Illuminator, we knew it would instantly become a summer staple, working to bring attention to the parts of skin that reflect sunlight. It's packaged in an easy to apply pen and the formula brings about a natural radiance with light-diffusing pigments. Green tea and ginseng extracts help to provide anti-oxidant protection while portulaca oleracea soothes and nourishes skin. Besides quickly becoming one of our favorite makeup companies, MAKE's products aren't tested on animals, they're cruelty-free, vegan, paraben-free, and hypoallergenic. Plus, one third of all sales go to the We See Beauty Foundation, which sells beautiful ideas and products, including MAKE – the first for-benefit brand of We See Beauty – empowering local economies and strengthening communities, starting in New York. The We See Beauty Foundation is a non-profit organization dedicated to incubate and accelerate women-led, worker-owned cooperatives to drive large scale change. For us, MAKE is home run in the beauty world, combining stellar, natural products with a philanthropic cause. We love the entire line of products, and we fell especially hard for the skin illuminator.
What Makes It Different:
The product is applied flawlessly through a brush applicator, making it travel friendly and super easy to put on in a hurry. The light reflecting pigments don't get diluted when you blend the product, so it stays bright and light.
Powerful antioxidants and green tea protect while working with skin to give an all over radiance.
Your purchase will help out women empowerment, which is a win-win situation.
Why It Is The One Thing:
Unlike most illuminators, this product has natural pigments and ingredients to leave skin feeling awesome. We love double duty beauty products, and the fact that this skin illuminator brightens your face and the lives of women around the world means it's working overtime. We're sold!
Where to Buy: MAKE Skin Illuminator, $28.50, WeSeeBeauty.com