When products claim to be waterproof I am a little weary. I mean, even the most water resistant mascara can come off with a few swipes of Soy Face Cleanser.
So when I heard that Make Up For Ever had come out with a line of waterproof cream colors for eyes and lips I thought, 1.) Yeah right and 2.) Oh! something new. Must check it out!
I pimped around Sephora at Lexington between 57th and 58th (my go-to location) and made a bee-line to the MUFE display. The first thing I noticed was that the Aqua Creams were scarce. They appeared to be sold out of most of the colors.
I picked up shade #1, Anthracite, and made a little line on my hand. I walked around the store for a few minutes. Checked out Ojon and Dior and I poked around the end cap for the fragrance roller balls.
After a about 10 minutes I went to the makeup remover display that Sephora has all over their stores and soaked a cotton pad. I tried scrubbing that Anthracite off my hand for a good 60 seconds. It didn't move.
I decided to purchase shade #1 along with shade #18, a light lilac shimmer. The way I use the Aqua cream is I first put #18 all over my lid and then I put my eye shadow on top of it. I'll line my eyes with #1 and then pile on the mascara. I used this look for a wedding, and my eye makeup didn't budge!
A definite staple for any beauty junkie's makeup treasure drawer!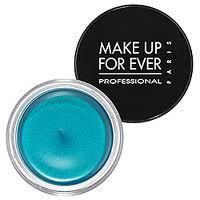 $22 for 0.21 oz
www.sephora.com