Pores are the bane of my existence. Each morning I slowly approach the mirror, looking to see what breakouts have popped up overnight. On days when I'm in the clear, I go in closer, only to be blindsided by a cluster of enormous pores staring back at me. I had actually given up on the fight against those pesky dots, reasoning it was part of my genes, like blue eyes and pale skin, until recently, when I spoke to dermatologist Dr. Neal Schultz of Park Avenue Skin Care. He assured me all hope was not lost.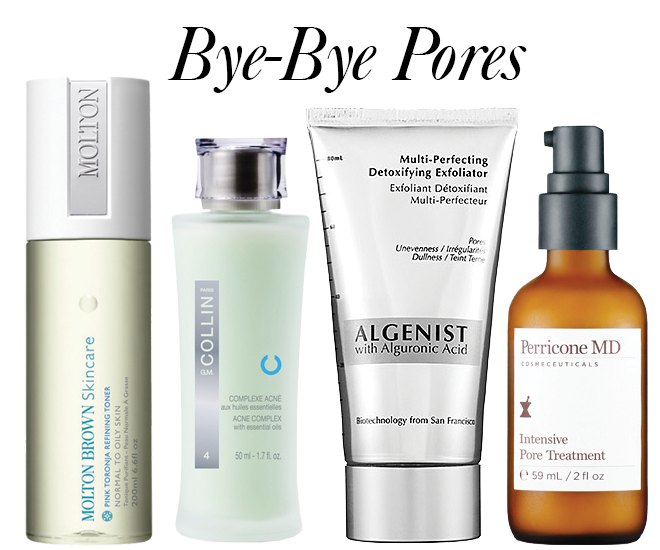 What Causes Large Pores?
One of the things Dr. Schultz made me realize is that as much as I like to complain about my gaping pores, I've never tried understanding them. Surprisingly, they're actually kind of interesting.
"The round circles that you see as pores are really the end of a tube that comes from an oil gland from below the skin," says Dr. Schultz. "The purpose of that tube is to conduct the oil up from the gland out to the skin. A normal pore is very tiny; you can barely see it. If there's a clog in that pore, the actual size of that pore will get larger, depending on the size of the clog. When a pore is clogged, the oil gland does not know that there is a clog. What does the oil gland do? What any well behaved oil gland does: It keeps making oil. And when it keeps making more oil, even though there is a clog, it has to expand because it cannot get the oil past the clog. The oil glands get larger, so that is why clogs cause enlarged pores."
Why Do Pores Get Clogged?
An easier question might be what doesn't cause clogs? Everything from hormones to excess dead cells to certain products (learn to love the word "noncomedogenic" on labels) can back up your pores, making them look like little craters.
How To Treat It
"The solution for enlarged pores is a combination of cleansers, toners, and physical and chemical exfoliation," says Dr. Schultz.
Chemical exfoliation means using cleansers, peels or masks that have salicylic acid or glycolic acid to help shed dead skin. Physical exfoliation, like facial scrubs, must be performed with caution. Dr. Schultz warns that abrasive cleansers (like natural ground nutshells) can do more harm than good. Instead, try a granular cleanser with round polyethylene beads.
The Truth About The Ice Method
I've consistently read that rubbing an ice cube over your pores is a great way to shrink them, but does it work? Dr. Schultz says, "Ice or a cold treatment will only offer temporarily results. It causes the pore to contract and shrink a tiny bit, but since the clog has not been removed, this method actually makes it worse."
Instructions For A Pore-Proof Face
Step 1: Use a granular cleanser, like Algenist Multi-Perfecting Detoxifying Exfoliator ($38, sephora.com). Dr. Schultz recommends waiting to use a scrub until the end of your shower, so your pores have a chance to steam, then massage the scrub into the large-pored areas for no more than 10 to 15 seconds and rinse it off.
Step 2: After the shower, pat dry and use a gentle chemical exfoliant. Look for products that have between 5 to 10 percent glycolic acid. I used Perricone MD Intensive Pore Treatment ($75, perriconemd.com).
Step 3: Repeat this every day, once a day, and in a period of about two weeks, pores will appear smaller.
Since most people wash their faces twice a day, be sure to use a toner, like Molton Brown Pink Toronja Refining Toner ($42, moltonbrown.com), and a salicylic acid treatment, like G.M. Collin Acne Complex ($42.50, drugstore.com).
How My Pores Fared
Although Dr. Schultz said to wait a couple of weeks to see results, I have to say I noticed shrinking after a couple of days. I was worried some of the exfoliating ingredients would cause irritation, but my skin felt fine.
What skin woe keeps you up at night?