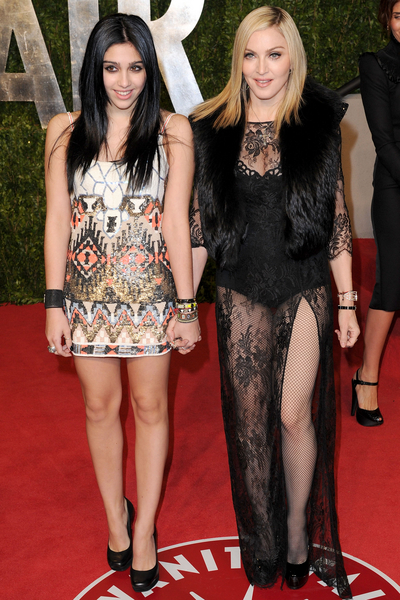 Photo: © Craig Barritt/Getty Images
Madonna is launching her second clothing label. The singer, who created teen label Material Girl last year with her 15-year-old daughter Lourdes (aka Lola), will aim her new collection, Truth Or Dare By Madonna, at an older audience. The label will illustrate Madonna's look as a powerful female icon and will be targeted at women aged between 27 to 50. She will then launch footwear, handbags and underwear, which will all come out in 2012
Material Girl To Launch A Beauty Collection
Iconix, the company with which Madonna will produce her new brand, CEO Neil Cole told WWD, "The interest and excitement globally for brands developed by Madonna are significant. After the highly successful launch of the junior brand Material Girl, we knew there would be a tremendous demand for a brand that Madonna herself is the face of and that truly captures her essence."
Try on Madonna's hairstyles in the Makeover Studio!
Madonna will also debut her first fragrance to herald the launch of her second collection. The perfume, which will also be called Truth Or Dare By Madonna, is being produced by Coty. It will be sold exclusively at Macy's in April 2012 and begin global distribution in May.
The pop icon told Women's Wear Daily, "I have always been obsessed by fragrance and for years wanted to create something personal that was an expression of me but that other people could relate to as well. Something honest, and yet daring, hence the name Truth or Dare."
According to a release, "Truth or Dare by Madonna will be a signature floral fragrance. Its unique blend of narcotic florals, balanced with addictive woods and vanilla, creates a scent that is timeless, yet contemporary, simultaneously dark and light. The bottle plays up the Truth or Dare duality—a classic and sophisticated shape, with modern and edgy detailing." The fragrance collection will have items retailing between a $24 shower gel and a $68 75 mL bottle.
In addition to working on her second clothing collection and first fragrance, Madonna and Lourdes have launched a nationwide search for the "Ultimate Material Girl." In a spoof video posted on YouTube, the mother daughter duo debate the definition of a true "Material Girl." It's a great behind-the-scenes look at a pop phenom being, well, a normal mom.


Try on Madonna's hairstyles in the Makeover Studio!