"Mad Men" comes back for its seventh, final season this Sunday, and I couldn't be more excited. I'm not just a regular fan. I'm a watch-it-twice-then-go-read-all-the-internet-recaps fan. But more than just loving the characters, the dialogue and the insanely good-looking Don Draper, I love the makeup. The show's makeup artist Lana Horochowski goes to great lengths to make sure everything is period accurate.
"I have to research every single thing we do," says Horochowski. "I would have to say I mostly look at makeup ads for inspiration and research, because they can let you know what the products were and when they became available."
Horochowski, who is a national ambassador for Look Good Feel Better, walked us through her five favorite makeup moments from the show:
1. Betty in Rome
In the third season of the show, Don takes Betty on a business trip to Rome, where Betty shows off one of her more elaborate looks: a sky-high updo and a smoky cat eye. Horochowski says she also takes inspiration from vintage fashion magazines when creating the looks.
2. Joan in 50s Flashback 
In season four, there's a flashback to the 50s when Joan (Christina Hendricks) is in the beginning of her relationship with Roger. Joan is in full Marilyn Monroe glamour mode, including curls and a bright lip, though her character usually wears more subtle lipstick colors.
"Joan's lipstick is the most asked about," says Horochowski. "Most people think it is red, but she normally wears a pale pink. I often use Laura Mercier Baby Lips ($23, sephora.com) or MAC."
3. Megan's Zou Bisou Bisou Performance
During the season five premiere, Megan (Jessica Paré) performs a song for Don's birthday and looks more 60s than ever.
4. Peggy's Big Dress Up Moment
In a rare moment for Peggy (Elisabeth Moss), she gets extra dolled up to make Ted jealous in season six. When doing pink lips, the makeup artist says she often turns to NARS Velvet Lip Pencils ($25, sephora.com).
5. Beth in Pete's Fantasy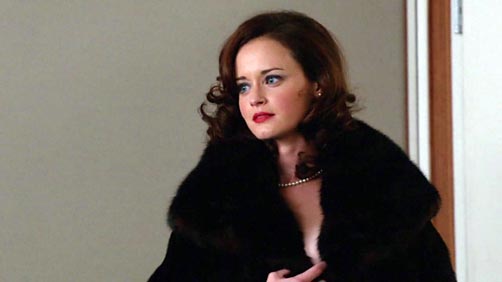 In season five, Beth (Alexis Bledel) appears in Pete's fantasy with a fur coat, red lips and not much else.
Of course I had to ask Horochowski what kind of makeup looks we can expect to see this season. Her response? "As everything is period accurate, you will have to wait and see."
Read more: The Best Beauty Moments from 'Scandal'