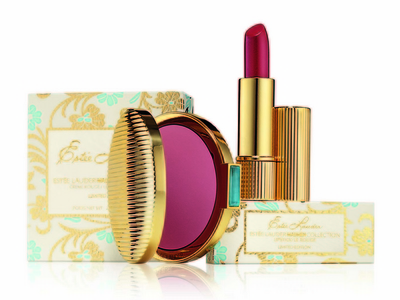 Photo: Estee Lauder
Mad Men's second collection with Banana Republic is hitting stores next week, but that's not all the trend-setting show is inspiring. Finally, the AMC drama will have a makeup line, and to top it off, Estee Lauder took the bait!
"We've always felt like there's a connection between Mad Men and the Estee Lauder brand and Estee herself; the 60s were our heyday as well," Jane Hertzmark Hudis, the Global Brand President of Estee Lauder, told Style.com.
Because the cosmetics company was around in the 60s, this is not a line inspired by the 60s but was blended with the company's old practices.
New Designer Nail Collaborations
The collection includes the limited-edition Estee Lauder Mad Men Collection Crème Rouge in Evening Rose and the Estee Lauder Mad Men Collection Signature Lipstick in Cherry. Both pieces come in flute gold cases with turquoise detailing on the compact.
"The product and the packaging were inspired by a concept that we call 'handbag elegance,' beautiful things you take out of your purse," said Hertzmark Hudis.
The collection will be available on March 18, along with the ad campaign shot by Craig McDean and starring Constance Jablonski in 60s attire: a bold red lip and a soft faux-bob. Perfect timing for the Mad Men Season Five premiere on March 25!
Will you be going retro next month?