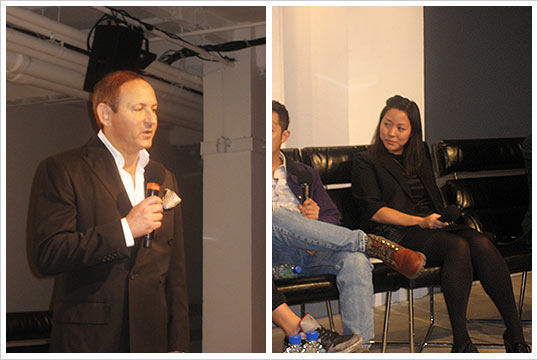 L John Demsey, Estee Lauder R Carol Lim, Opening Ceremony
I had the opportunity to sit in with students from Parsons The New School for Design and the Fashion Institute of Technology on a designer panel including the likes of fashion giants Jack McCollough and Lazaro Hernandez (Designers, Proenza Schouler) and Alexander Wang (Designer, Alexander Wang). The event was a part of MAC Cosmetics and Milk Studios' jointly sponsored series of New York Fashion Week events.
Group President of Estee Lauder Companies, Inc. John Demsey provided opening comments while Suzy Menkes, author and fashion critic, International Herald Tribune, moderated. Topics included the industry's changes induced by current market conditions and technology's effects on fashion.
Demsey pointed out that creativity absolutely stems from tumultuous economic periods. In fact, beauty titan MAC Cosmetics was founded in 1984, a period when the inflation rate was at 14.9% and unemployment was a depressing 10.8%.
A sampling of some of the Q&A: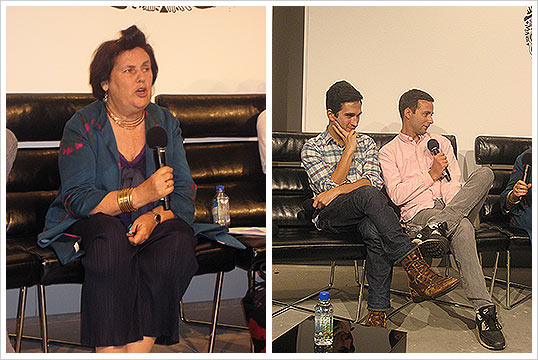 L Suzy Menkes, author/fashion critic, International Herald Tribune R Lazaro Hernandez, Proenza Schouler.
Jack McCollough on collaboration: "We don't always agree on colors for our next collection. One of us will want red, the other blue. We compromise and make it purple."
Lazaro Hernandez on bloggers: "We create our collections differently now; they're for a wider range of people to view. Bloggers have democratized fashion."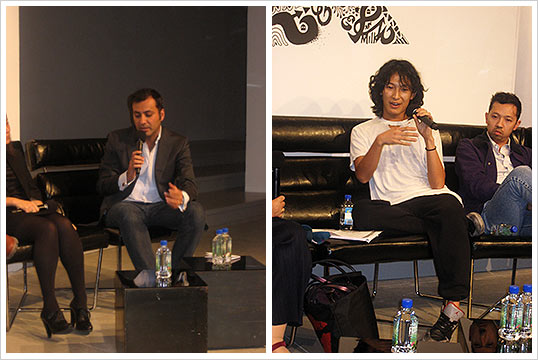 L Mazdack Rassi, Milk Studios R Alexander Wang, Alexander Wang.
Alexander Wang on the most rewarding part of his experience: "Seeing a perfect stranger on the street holding my bag or wearing my top. That's when I feel I've really made it."
Simon Collins, Dean of Fashion, Parsons The New School for Design, on how to teach design: "You can't teach raw talent. Good designers come to us. We tell our students to get jobs after college so that they can make mistakes with another designer's money. But many don't listen." (Said with a wink directed at McCollough and Hernandez).
Humbert Leon on technology and fashion: "We [Opening Ceremony] can now be accessible to emerging young designers, thanks to the Internet."
The event concluded with Suzy Menkes' recollection of young designers sharing their ambitions to be the next Calvin Klein or Rodarte. Said Menkes, "No, you don't want to be Calvin Klein, nor Rodarte. You want to be yourselves."