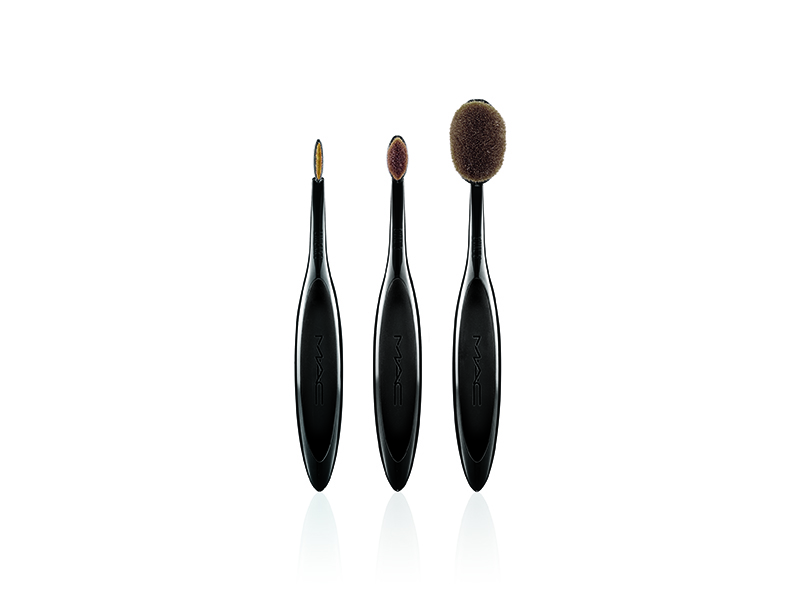 When it comes to makeup, application is key. If you've got the best brand of foundation in the world but you're not applying it correctly, you go from looking like $1 million to looking like you need a makeover. Beyond just knowing how to apply, having the right tools is essential to getting the look right. MAC Cosmetics' newest line of Masterclass Brushes, a set that we first spotted backstage at Fashion Week last February, is the new industry standard for makeup brushes because of their ergonomic design and high level of quality.
Designed by the department of Artist Training and Development at MAC with the mindset of making self-application effortless and consistent, the set of three brushes, available beginning today, will absolutely change the way you apply your makeup.
MORE: How to Make Your Makeup Brushes Last Longer
First, the shape of the handle makes application simpler because your hand is pointed away from the area you're trying to see, which means you won't block your view like with a traditional brush. Next, the shapes of the actual brushes (made of synthetic bristle Cosmefibre, which is made to work and feel like natural bristles), are meant to match the planes of the face. The brushes work in gliding strokes of a push or pull motion, not in small, multiple dabs like other brushes. Whichever motion (gliding, pushing or pulling) feels more natural to do with the brush, that's what you should be doing. The continuous motion is what makes the application so smooth.
MORE: How to Clean Every Tool in Your Makeup Bag
If you're wondering which brush should be used for which kind of makeup application, here's a complete breakdown:
Linear 1 (Left): With a short, narrow row of fibers, this brush is perfect for applying product along your upper lash line or underneath your lower lash line. You can also use this to define and fill in brows, or apply a defined line along your lip.
Oval 3 (Center): Because of its shape, this brush is best used for shading and blending cream or powder eyeshadow.. Also, if you need to apply targeted areas of foundation or concealer to the face, like on the sides of your nose or inside the corner of your eye, choose this brush.
Oval 6 (Right): Use this brush to apply primer, foundation or powder to the entire face. Also, for contouring, use this brush for bronzer or blush on the cheekbone area.
Where to Buy: MAC Masterclass Brush Collection, $25-$42, MACCosmetics.com
Courtesy Image