Fashion shows are a hotspot for finding exciting beauty trends and backstage at Spring 2010 Fashion Week we saw tons of funky makeup looks we loved. Over and over again we were told that most of these looks were wearable in real life, so we decided to put that statement to the test. We invited MAC and their makeup artistry team to give Beauty Editor Megan McIntyre a runway-inspired makeover to test-run and see if it really worked off the runway. This week: Neon bright, winged eyeliner, as seen at L.A.M.B. by Gwen Stefani.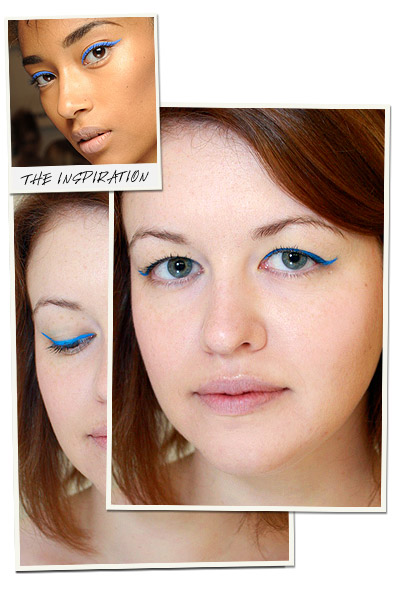 Runway Photo: © Luca Cannionieri
I'm not shy when it comes to bright eye makeup–I love using eyeliner to add pops of color to my look. But my amateur attempts at playing with color might as well have been the reject pile at the Crayola factory next to the vibrant blue liner that MAC Senior Makeup Artist Keri Blair created for this week's runway-inspired makeover. It was like the difference between Dorothy traveling from Kansas to Oz–from bland black and white to magical technicolor in just one quick, topsy-turvy trip.
Keri started off by swiping a nude shadow on my lids to help prevent printing and creasing. She then mixed light blue and navy MAC Pro Chromaline cream liners to create an intense, almost turquoise color. For a similar look, try Liquidlast Liner in Blue Herizon. Keri described the look as "a 50s kind of shape with an 80s sort of color," so the line was drawn as a graphic cat-eye shape. Starting at my outer lashes, Keri created an angled-upward wing, then drew the rest of the line on, keeping it thick and close to the lashes. On my inner rims she used a crisp white liner to make my eyes look bigger and brighter and my lashes were curled to help maintain the flirty feel of the look.
"The overall look is a little feminine but with an edge," said Keri. "It's a very classic look but done with a pop of color. Instead of doing your traditional black, what we're doing here is allowing you to add that pop of spring color, like you would in your wardrobe, but just on your eyes," she said.
Since the eyes were so bold, the rest of my face was kept subtle, with a sheer pink blush on my cheeks and toning down my natural lip color by using a flesh-toned balm that made my lips a neutral, slightly muted hue.
Unlike the doll lashes, which had made me feel pretty and sweet, this look made me feel like a tough girl–I was a punky ninja princess in my head. I had a definite swagger throughout the rest of the day and couldn't help but love how the long, graphic wings really enhanced my eye shape. The color was intense, but it didn't take over my face as the orange lips had. Once again, no one was even remotely taken aback by the look and I went through my day feeling too cool for school. Verdict: Definitely wearable, perfect for creating an edgy, trendy style that doesn't overpower or look clownish. Hey, if it's good enough for Gwen Stefani…
Want to see how you'd look with technicolor liner? Try this look on now in the virtual Makeover Studio!
As one of the web's largest beauty sites, DailyMakeover.com constantly receives products from beauty companies for editorial review. Please read our Editorial Ethics Pledge if you'd like to know how we select products to feature.