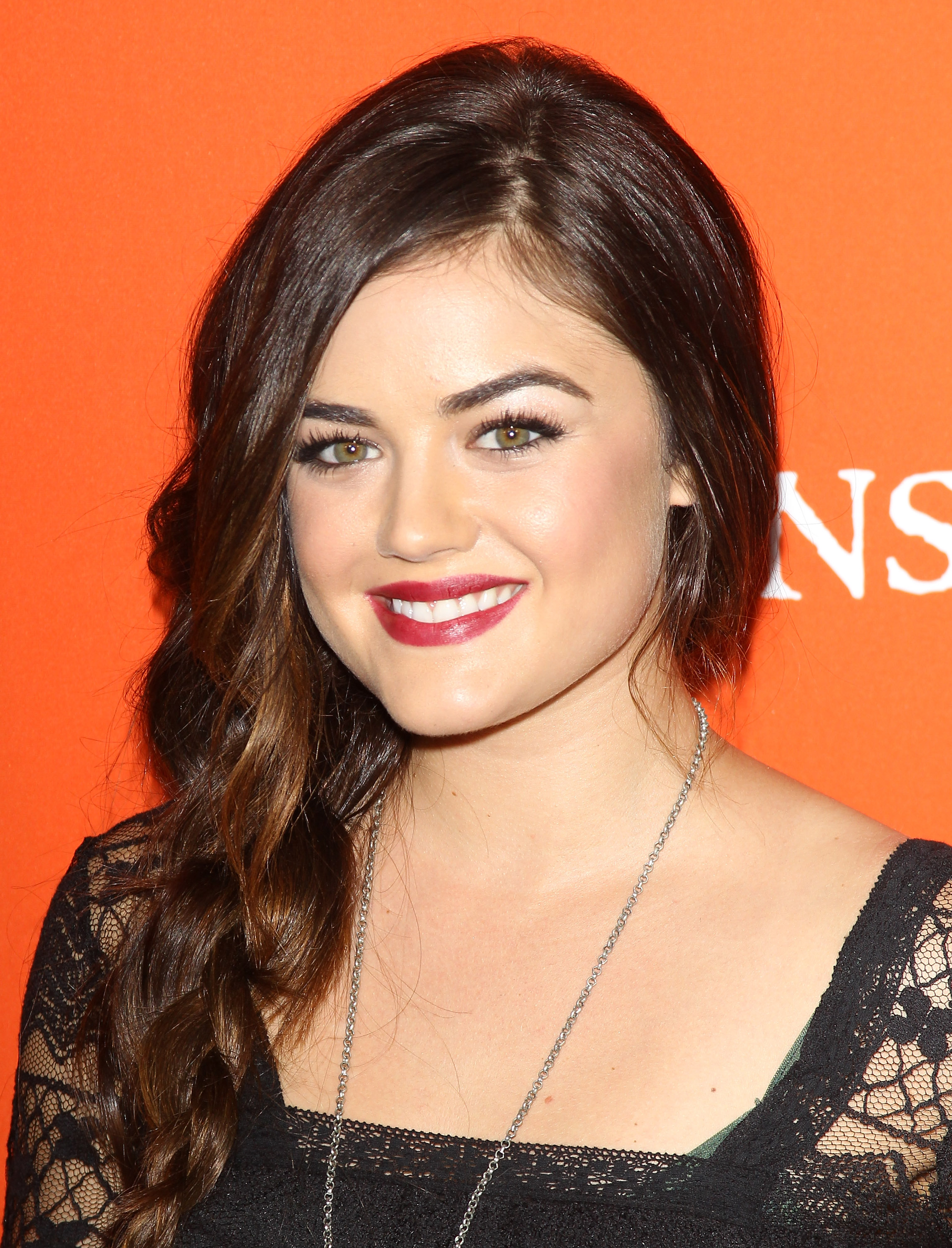 With a hit TV show, a music album and a deal with mark. Cosmetics, Lucy Hale is on top of her professional game. But, as much as we love "Pretty Little Liars," there's another reason we love the actress so much: Her bold beauty looks. Never one to shy away from a red lip or a cat eye, Lucy is constantly pushing boundaries by wearing bold makeup, not letting bold makeup wear her.
With the newest holiday campaign from mark. Cosmetics out this week, we wanted to know exactly how to get the look. We chatted with Fiona Stiles, the genius celebrity makeup artist who works with Lucy as well as Jennifer Garner, Nikki Reed and more. Fiona talked with us about the latest beauty trends, how to get makeup to stay put and why working with Lucy is like adding a ray of sunshine to her day. Read on below!
MORE: Lucy Hale on Embracing Bold Brows and Her Favorite "Pretty Little Liars" Episode
Beauty High: We absolutely love Lucy's look for Mark's holiday campaign! How can girls at home go about getting this look (below)?
Fiona Stiles: Lucy has great skin to begin with, it's this gorgeous olive color but she's very pale, so her features really pop. I started by focusing on her skin, which I think is the most important feature, doing subtle highlighting and contouring (nothing like the Kardashians). I did a soft application of foundation, a soft contour on the cheek, then subtle highlights on the bridge and tip of her nose. The fairer you are, the lighter you need to go on the highlighting and contouring, but everyone looks great with just a little.
Of course, who doesn't love a cat eye? And the red lip goes so well with it. I did a little bit of shading on the eyes, then winged eyeliner on the outer third of her look. As far as the red lip, I know that a lot of people feel like as soon as they put on lipstick, they feel like, "Here's my mouth!" and it doesn't have to be like that. You can go with a more sheer color, or use a matte lipstick more as a stain. On Lucy for this campaign, I used the On the Dot Lip Color Compact, which I love because there are so many options in one product. The key for this look is to choose one or two main focuses, not everything (brows, lips, eyes, contouring) all at once. Make one thing stand out to make it look amazing.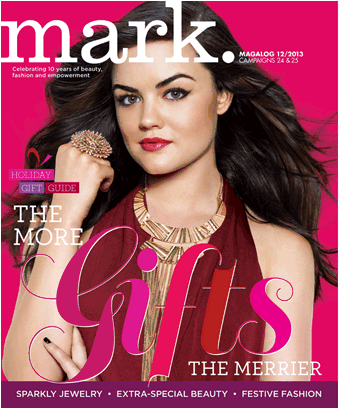 What's it like working with Lucy? 
Oh my god, working with her is an absolute ray of sunshine. She's so sweet and she's super professional, and she's just got this face that you can do anything with. She's got fair skin and perfect heart shaped lips, and all of these bold features that stand out on her skin. A lot of times, working with her, we do six shoots in one day and I feel like it's a reality TV show makeup challenge. Luckily, she's just got these amazing genetics where her face keeps makeup perfectly, and I barely have to touch her up.
With 6 different looks in a day, we can't imagine the skin handles that much makeup very well! What do you suggest as far as keeping skin from breaking out? 
Lucy works basically every day, 14 hours a day, especially while she's on the set of "Pretty Little Liars," and thankfully she's got pretty great skin. What I usually do, though, is give my clients a makeup wipe and moisturizer at the end of the day, just because getting the makeup off and hydrating your skin right after is so important. But, the biggest compliment I ever get is when my clients are done with a shoot and they'd rather keep the makeup on than take it off.
MORE: Watch: Get 'Pretty Little Liars' Lucy Hale's Purple Smokey Eye
14 hours in makeup is really long! What do you do to make sure the makeup stays put? 
Primers are so helpful, but it really depends on what kind of product you're using. If you're wearing a sheer lip gloss, it's going to bleed and you're going to need to touch it up. But if you use a product that lasts, like a matte lipstick, you'll have a better chance. As far as eye primers, it depends on the shape of your eye. If you have a hooded eye that typically gets a little greasy, primer will be really helpful, but if you have a large, flat eyelid, primer won't really be necessary.
When it comes to trends for the fall and winter, what are you seeing the most of? 
Women are really wearing makeup again, which is the best trend I've seen. Because of the internet and social media and beauty blogs, girls are able to see what makeup looks like on real people, not just on models in magazines. They can see Lorde or Lady Gaga Instagram a picture of their own makeup, and that's what gives them the courage to play. They can experiment with colors and see it in real life. Makeup trends are really fluid. You're not restricted to wearing a dark lip in the fall, you can play with brights and colors now. In the past, it would be my job and the media's job to report on the trends on the runway at Fashion Week, but now it's so easily accessible. And you can tell girls that for fall, bold brows and tons of eye makeup is huge, but if they don't like how they look with bold brows, they won't wear them. There's freedom. Being playful is the real trend.
Image via Michael Tran/Film Magic, Courtesy Image