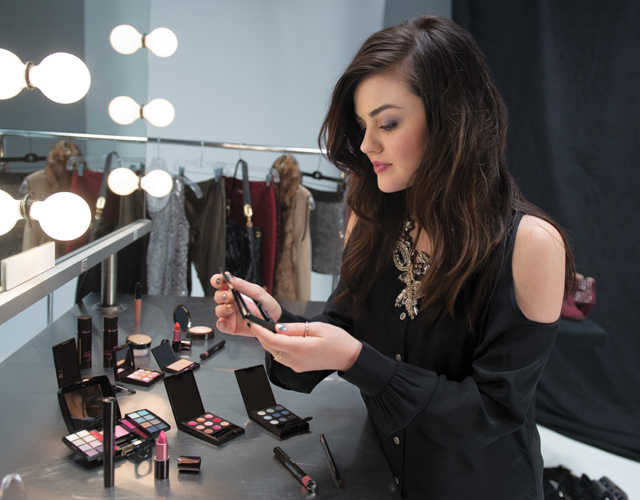 It was recently announced that the stunning Lucy Hale has become the new face of Mark Cosmetics, and while we love everything that the brand stands for (eh hem, empowerment of women and well, makeup!) we also absolutely love Lucy Hale – from her stunning makeup to her gorgeous brunette hair. That basically means a match made in heaven for us, right? So, once the new campaign images started rolling out, we had to get our hands on them, and of course learn how to do the looks on ourselves.
We called upon Mark Celebrity Makeup Artist Jamie Greenberg to show us how to do one look in particular – the one pictured above showcasing Lucy rocking a purple smokey eye and soft pink, glossy lip. A style that she often rocks on her hit show "Pretty Little Liars," and that we can see ourselves easily transitioning into our nights out on the town. Watch the video below to see how to get the look yourself, and follow the steps below to find out which products were used!
Step 1: Fill in the lash line with your favorite black eyeliner to begin the eye look.
Step 2: Apply lip balm to your lips to moisturize. Jamie used By Terry balm.
Step 3: Prime your lids with shadow with Mark Eye Primer in Please Hold.
Step 4: Lightly fill in your brows to frame the eyes. Jamie used Anastasia Eyebrow Palette in Medium Brown.
Step 5: To start the eye, create a highlight underneath the brow with Mark I-Mark in Whisper.
Step 6: Next, lightly dust Mark I-Mark in Pink Dust near the inner corner of the eye.
Step 7: Fill in the outer corner of the eye with Mark I-Mark in Violet Ink.
Step 8: To finish the eye, take a touch of cream eyeliner (Jamie used Tom Ford Noir Absolute) along the lash line for definition and a coat of black mascara.
Step 9: Then, apply a fake lash to the eyes for extra glamour.
Step 10: Sweep Mark's Touch & Glow Shimmer Cream Cubes on the cheeks for a rosy flush.
Step 11: Finish the look with Mark Lipclick in Sweetie Pie.
Video by Alissa Huff, Photo Courtesy of Mark
More From Beauty High: 
'Pretty Little Liars' Makeup Artist: "I Don't Follow the Rules With Makeup" 
The Best Makeup Looks From Pretty Little Liars
'Pretty Little Liars' Hairstylist On How to Get Perfect Beach Waves, Hair Extensions and More