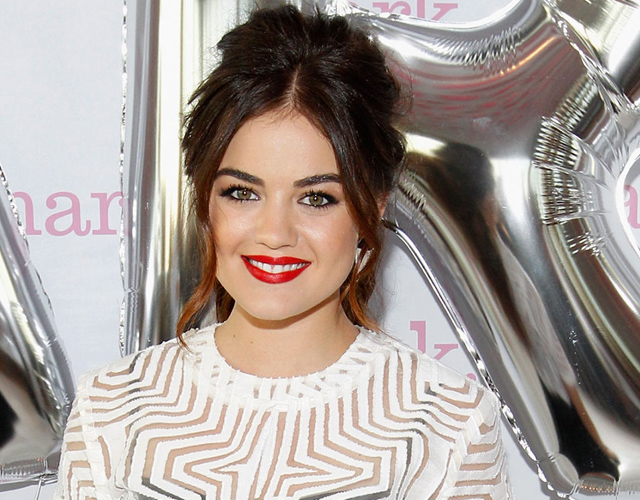 We have never tried to hide our love for "Pretty Little Liars" here at Beauty High – the can't-miss ABC Family show brings together four fun-loving girls going through what should be their typical high school years, but it's anything but typical – it's an intriguing murder mystery with surprises at every turn. At the center of that show is Lucy Hale, the 24-year-old actress who plays Aria Montgomery, and who was most recently announced as the newest face of mark Cosmetics.
While Hale isn't busy shooting her full-time role on PLL, she's also recording her first country album, which is rumored to be due out this year. We caught up with the (clearly) busy actress and singer to talk mark, beauty must-haves and of course PLL secrets – but she was (unsurprisingly) a bit tight-lipped on that last one. Read on for more!
Beauty High: What was your first reaction when you heard about partnering up with mark?
Lucy Hale: I promised myself that I wouldn't work with a brand unless I really liked the products. I was already familiar with Avon and mark, but for me it's more than just makeup. mark is all about empowering women so getting involved was a no brainer.
You're known for your big, gorgeous eyes – do you have any tricks for playing them up?
Thank you. Putting down the tweezers! I've embraced my bolder brows. I went through a cycle with horrible shapes and sizes, but now I feel like my brows make me a little different.
MORE: Get 'Pretty Little Liars' Lucy Hale's Purple Smokey Eye
We hear you have a pretty hectic schedule while shooting PLL. How do you fake looking awake?
Lots of coffee! mark's Makeup Artist Fiona Stiles also told me if you wear a bold lip it wakes up your entire look. Add a party dress and you're ready to go.
What is the best beauty trick you've learned on set of the show?
I think it's mainly been about hydrating and letting my skin breathe when I'm not on set. I also drink a lot of water and use a good moisturizer.
MORE: 'Pretty Little Liars' Makeup Artist: "I Don't Follow the Rules With Makeup"
Can you tell us any secrets about the upcoming episodes of PLL?
The Halloween episode is coming up on October 22nd and its one of my favorites! We pick up right where we left off in Ravenswood.
What are your beauty must-haves?
I love mark's Make It Rich Lip Crayons, my favorite shade is Hot Sauce. I also really love Mario Badescu's Rose Water Oil. And I never leave home without the mark makeup remover wipes.
You're the perfect mark spokeswoman since you really show girls that they can do it all – You even have an upcoming album coming out! What can you tell us about it?
Music is my heart, and I'm so blessed to say that this album turned out to be something I'm very proud of.
Image Courtesy mark