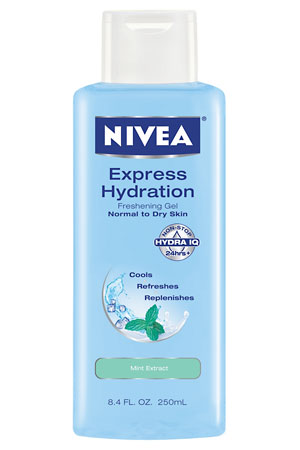 We all have beauty sins we're guilty of: Going to sleep with makeup on, popping pimples, tanning, over-plucking brows, etc. My biggest beauty sin is that I don't use body lotion. I know, pretty tame comparatively right?
In the long run though, this beauty bad habit is going to cause me some serious grief; skin that's not properly hydrated tends to look older quicker because your skin needs lots of moisture in order to keep up healthy cell function. This translates to dullness, wrinkles, flakes and an overall blah appearance.
My major issue with lotions is that not only are they one more step to add to my already extensive skin care regimen, but that they also feel greasy and slick on my skin, a problem that is exacerbated during the sweaty months of summer.
I've tried my share of body lotions over the years, all with different, amazing claims, so I was skeptical when Nivea's Express Hydration Freshening Gel lotion landed on my desk. It claims to provide lightweight, cooling moisture that won't feel oily or greasy on the skin. It has a quick-absorbing formula that's infused with mint to instantly cool skin off.
"Yeah sure," I thought to myself. I've been down this "quick-absorbing road before, and it usually leads to lotions that sit on my skin when applied, and only disappear because they instantly absorb into my clothes. But, being the intrepid beauty reporter I am, I decided to give this lotion a shot despite my skepticism.
Boy am I glad I did. The super-light formula is literally a gel consistency, and the minute I put it on my legs it disappeared, leaving behind silky, soft-to-the-touch skin. The added bonus of the mint means it feels so refreshing, especially right after a hot shower.
I've been using the lotion for the past few weeks and my skin not only looks and feels healthier, but I haven't felt like I'm taking a ton of extra time to moisturize. Because I don't have to rub it the lotion into my skin like a madwoman in order to get it to absorb, it's literally a quick, two-minute process. Best of all, it's only $6.99 a bottle, making it much more affordable and effective than half the unused lotions scattered all over my bathroom.