Cult favorite program LOST is in its final season! While the mysteries are finally unfolding (Richard Alpert–fondly known as Eyeliner Richard, though it's been confirmed by LOST Makeup Department Supervisor Emily Katz that he wears no liner–was a 19th Century Spaniard?!), I'm always stunned by the REAL mystery of LOST: These girls may be roughing it in the jungle, on the beach, in a Dharma-occupied 1970s time warp, but they manage to look decent doing it. And they really impress me when they glam it up he red carpet. Here, we compare Yunjin Kim, Emilie De Ravin and Evangeline Lilly's on- and off -screen makeup and hairstyles.
On-screen: ABC
Off-screen: © Credit: Marcia Campbell/FilmMagic
Yunjin Kim plays Sun Kwon on LOST. I wonder if Sun packed a bag that rivals Lovey Howell's to the island (she did, actually know she'd be marooned there the second time she arrived there, so it's possible). I'm rather impressed with her on-island beauty regime. Sun manages to look cool and collected despite lack of running water and general luxuries she became used to as a privileged gal in her native Seoul. For a LOST screening party on the beach in Honolulu, Yunjin stuns with glossy, side-parted locks tempered by a neutral palette of makeup.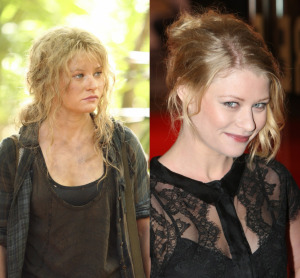 On-screen: ABC
Off-screen: © Credit: Dave Hogan/Getty Images
After a two-year hiatus, Emilie De Ravin's character Claire is back on LOST and in the interim, she's gone from low-key beauty to crazy. Thanks to her he now boasts a brillo-pad 'don't on-island. But as shown on the red carpet at her latest film premiere Remember Me, Emilie looks every bit as spicy as her co-star The Twilight Saga vampire Robert Pattinson. With Emilie's softly swept-back waves, minimal eye makeup and rosy pink lips, this romantic look rocks the red carpet.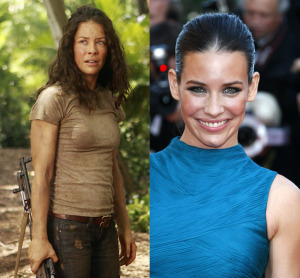 On-screen: ABC
Off-screen: © Credit: Marcia Campbell/FilmMagic
Eternal love-triangle participant Kate (played by Evangeline Lilly) rocks beautifully tousled, beachy-wavy hairstyle on-island but she sure cleans up well once she has access to life's amenities. All the gal needs is a bit of peachy blush and some hair product and she looks absolutely stunning.
Who's your favorite lady of LOST?