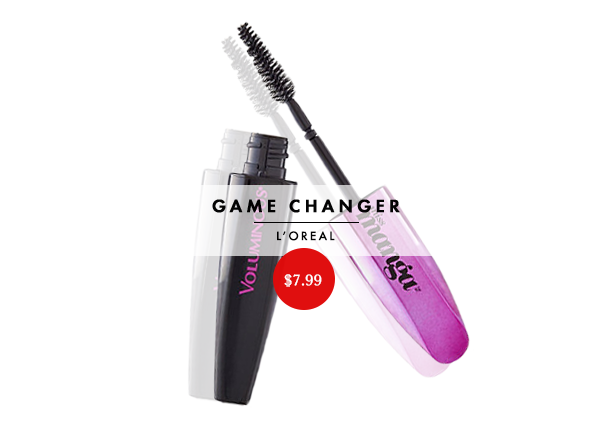 It is a well-documented truth that mascara is just not my thing. What with my naturally oily eyelids, penchant for rubbing my eyes over the course of a long day, and disinterest in makeup that I have to worry about—it smears, it flakes, it's an absolute nightmare on a rainy day—it frankly doesn't suit my lifestyle.
So when I do use mascara, I must choose wisely. The formula needs to be pretty much perfect, because I'm a tough critic—if I notice even the slightest suggestion of stickiness or clumping, or my lashes starting to look too thick and spidery after only a few coats, well, the product in question is dead to me. It should come as no surprise, then, that most of the mascaras I've ever tried have been duly discarded.
Consider also that I'm an admitted product snob, I've never really fallen in love with anything that can be purchased at a drugstore. When L'Oreal Voluminous Miss Manga Black Angel landed on my desk as if by magic, I didn't expect to love it. Honestly, I didn't even plan on trying it.
I was preparing to leave work late one Friday night to head to a social gathering, and after a full day spent in front of a computer screen, I was looking decidedly less than fresh. Against all odds, I reached for Miss Manga—and I had a hard time putting it back down. After curling my lashes and swiping on a few coats, I was loving the wide-eyed, thick-lashed look it gave me, so I applied more. And more. And then a little more.
The application was so even, with no spidery lashes or clumps to be seen, and the slim conical shape of the brush made it super easy to reach those tiny lashes in the inner corners without smearing mascara all over my eyeball. Perhaps most importantly, the shade is the blackest of blacks, so it really, really defines the eyes—no natural look here, so if dramatic and Edie Sedgwick-esque is what you're going for, it's absolutely perfect. It's like the effect of false lashes for the girl who just isn't interested in struggling with false lashes, which I daresay is most of us.
Plus, I've spent so long as a high-end beauty puritan that I forgot how thrilling it is to find a really great product at an even better price. To be clear: It is very, very thrilling indeed.
Read more from Daily Makeover: 10 Mascaras That Will Not Clump (No Matter What)