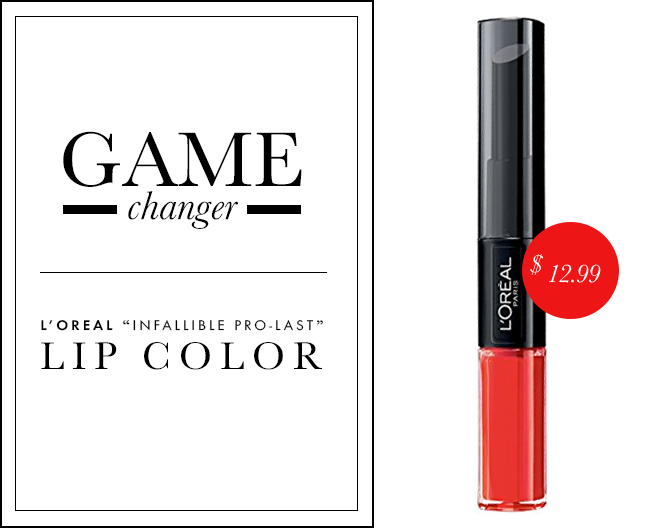 It takes a genuinely amazing product to win over an entire office full of picky beauty editors, and L'Oreal Infallible Pro-Last Lipcolor ($12.99)have done it.Game Changer? No, more like a LIFE changer.
L'Oreal's entry into the super longwear liquid lip color arena is truly stellar. In our opinion, these aren't just comparable to Make Up For Ever's Aqua Rouge liquid lip colors; they're better. And we love MUFE, so we don't make that comparison lightly.
So in short: we're totally obsessed with these. How obsessed, you ask? Let's count the ways.
The colors!
Pro-Last launched with a range of 24 drop dead gorgeous shades that run the gamut from work appropriate (Timeless Rose) to edgy (Violet Parfait, the shade that Naomi Watts wore to the 2015 Oscars). Our favorite so far is Captivated by Cerise, a near neon red that lights up our faces.
The wear.
L'Oreal promised that Pro-Last would last a full 24 hours, and we admit that we were skeptical. After testing them for a week, we realize how wrong we were to doubt: these stay put FOREVER on our lips. No matter what shade we woreand we've tried them allthey easily lasted through a full day of work and beyond with minimal wear (mostly around the inside of the lips, which was not terribly noticeable). We've even eaten greasy pizza while wearing these (don't judge us), only to have our lip color still look flawless afterwards. If Pro-Last Lipcolors pass the Pizza Test, you KNOW they're something special.
The application.
The liquid lip color comes with a doe's foot applicator and is insanely easy to applyyou won't need a lipliner to get a totally precise outline. The balm that seals in the color is a twist-up solid on the other end of the tube. It goes on clear, and doesn't smudge or push around the color at all.
The formula!
The best part of all. The liquid lip color is incredibly richly pigmented, giving perfect opacity in a single coat. Some of the darker shades seem slightly thinner, so you may want to apply a couple of coats to build intensity. The Pro-Last color dries in about 30 seconds, so if you make a mistake, you need to move FAST to fix it. It feels light and comfortable on the lips; slightly dry perhaps, but no worse than a normal matte lipstick.
The color-sealing balm is amazing: soft, hydrating, not gooey and with zero smell. We LOVE that it's a twist-up solid instead of a sticky gloss, and it imparts a subtle satin shine to lips that won't compete with the color.
The finish.
This varies, depending on the color: some shades have a delicate iridescent shimmer (Forever Candy), some have actual sparkle (Timeless Rose) and some are straight up opaque (Red Infallible). None of these different finishes are terribly noticeable on lips; after the balm goes on, all you really see is a lightly shiny satin finish.
The removal.
Ah, the double-edged sword: Pro-Last wants to stay on through everything, but it also wants to STAY ON THROUGH EVERYTHING. We've found that the best way to take it off is with a cotton washcloth (that you don't mind staining a little) and an oil-based lotion or makeup remover. You'll need to rub quite a bit to get it all off, but hey, bonus lip exfoliation!
The price.
These amazing lip colors are $12.99, and available at your local drugstore. Considering that the competition is almost twice the price, you'd be insane not to get an Infallible Pro-Last in every shade.
Read More: Game Changer: This Tinted Moisturizer Actually Provides Full Hydration.