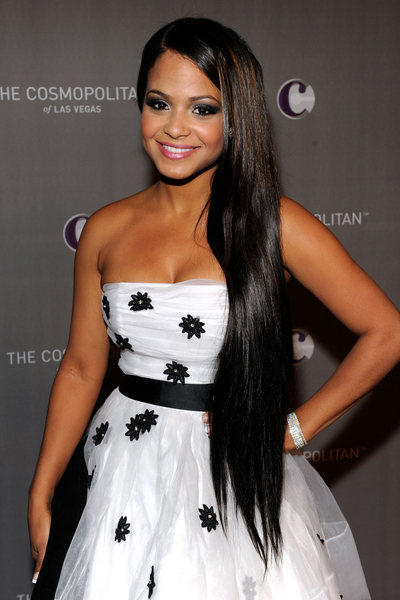 Photo: © Kevin Mazur/WireImage
Long hair has plenty of perks–it's versatile, makes a fab flirting tool and can double as a curtain to hide behind when you want to avoid certain people. But some starlets are taking their love of length to new extremes.
There's no denying that long hair is beautiful, but after a certain length it goes from chic to downright comical. Take Christina Milian here: She turned up on New Year's Eve sporting butt-length extensions that had us wondering how she avoided sitting down on her hair all night.
See celebs like Lauren Conrad and Miley Cyrus with super-long locks.
Looking at the recent spate of hair growth in Hollywood, we can't help but wonder if the length of a celeb's hair is inversely related to the trajectory of their career. Lindsay Lohan was sporting those tatty extensions as her life went down the tubes and Miley Cyrus started wearing her hair super-long when she decided her lifelong goal was to mimic a stripper. Let's not forget Taylor Momsen, who dissed Gossip Girl, took up a "music" career and was promptly dumped from her modeling contract.
Now we're not saying there's anything wrong with long hair. On the contrary, we think long hairstyles are gorgeous–within reason. The longer your hair gets, the harder it is to maintain and the messier it starts to look. Once your hair hits torso-length, you might want to consider speed-dialing your stylist and booking a cut pronto.
What do you think of extra-long locks? Trendy or trashy?
<a href="
/virtual-makeover/celebrity-hairstyles"&gt/
;

See how you'd look with super-long hair in the <a href="
/virtual-makeover/celebrity-hairstyles/" title="Makeover Studio">Makeover Studio!