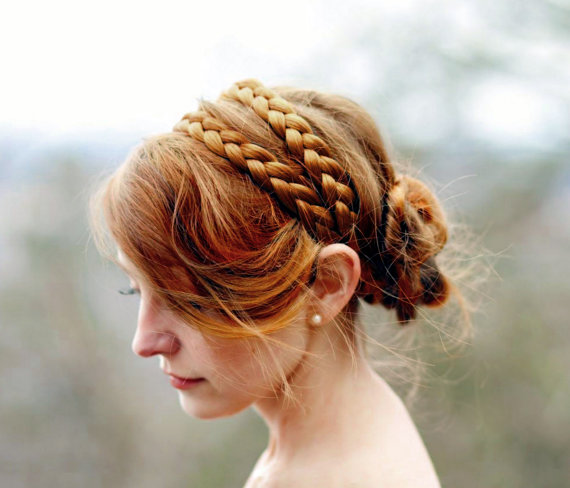 Whenever we find ourselves in a hairstyle rut, it seems the easy way out is to learn a new braided hairstyle. Whether it's a fishtail braid or a French braid, learning a new technique or style can really amp up your hair's wardrobe options. Lately, our hair obsession has landed on the headband braid (above), and we figured because you probably love this style as much as we do, a tutorial was in order. Ladies with long hair, take a look at the steps below and learn how to DIY the headband braid!
Step 1: Begin by styling hair however you would normally, either straight, wavy, curly or a mixture of any of the above. Part hair as you usually would.
Step 2: Starting at one side of your head, take the section of hair just below your ear and begin braiding, all the way to the end. The thickness of the braid will depend on how big of a section you braid, so depending on whether you want a thin headband or a thick headband, choose how much hair to take. For extra hold (or if you have super fine hair), you can apply texturizing paste to the hair you will braid before you begin. Use a small clear elastic to secure the braid.
Step 3: Repeat Step 2 on the other side of your head, so you have one braid on each side of your head. You can choose to either leave your hair down, or pull it into a ponytail or bun. If you'll be pulling your hair up, do so now and secure with an elastic. Otherwise, leave hair loose and down.
Step 4. Leaving out your bangs and a few face-framing pieces of hair, with the braid on the first side, wrap the braid around the front of your head until it reaches your opposite ear, and use criss-crossing bobby pins to secure in place behind your ear. Also use small bobby pins along the top of your head to keep the braid from falling. Repeat this step on the opposite side of your head, placing the second braid just behind the first one across the top of your head.
Step 5: If your hair isn't long enough for the braid to reach your opposite ear, pin along the top of your head, and the two braids overlapping in the middle will create the look of a complete headband. Use bobby pins to secure the braids close to each other for the effect of one uniform headband.
Step 6: Finish the style by spraying some flexible hold hairspray for longevity, and you're finished!
Image via Etsy
More Hairstyle Ideas From Beauty High:
101 Braided Hairstyles and How to Do Them Yourself
5 Easy Tricks to Getting the Perfect Beach Waves
15 Wedding Hairstyle Ideas for Short Hair