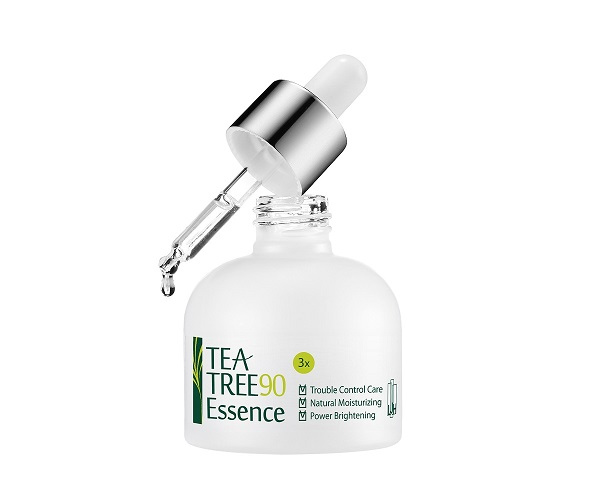 Finding the right products for one's specific needs can be quite the task , right? A long, exasperating journey through the depths of a multitude of cosmetic aisles , alongside scrolling through an unimaginable number of online shops makes for a troublesome search. Just when you think you've found the one, it falls by the wayside, it's too difficult to use, or even better… you're encouraged to buy the other seven products from the same family to go with it, so it can actually work. That's a whole lot for something as simple (yet totally complex) as our skin.
Worry no more, because as beauty writers, skincare junkies, and cosmetic enthusiasts–we've definitely got you covered, which is why we're kind of, sort of obsessed with LJH's Tea Tree 90 Essence. It came. It conquered. Done and done. It's no secret that Korean beauty has been around as long as the beauty category itself, but this little gem is fairly new to us. This extremely lightweight formula is so soothing and comfortable, it puts that sweater your grandma made for you three years ago to shame.
MORE: 6 Korean Beauty YouTube Stars You Need to Know
Tea Tree 90 Essence is a clear liquid made from a powerhouse of great ingredients to help you overcome several skin obstacles. It's made of 90% tea tree extract, which works as an anti-inflammatory, and the other 10% of ingredients include things like sea buckthorn (which helps to speed skin heeling), and grapefruit seed extract (which works as an antiseptic as well as promotes healing for wounds and scar tissue), just to name a few. This all-in-one product delivers moisture to the skin, absorbs immediately, and helps to brighten!
What Makes It Different:
It has no stickiness whatsoever
Helps to relieve the skin of redness and inflammation
Contains no parabens, mineral oil, artificial coloring, fragrance, and is vegan
Why It's The One Thing:
This just simplified our beauty routines by 3 products! It combats redness, acne, and helps to brighten up overall complexion all while delivering hydration. It's great for all skin types, and as an added bonus: it plays well with other products.
Where to buy: LJH's Tea Tree 90 Essence Oil, $38, ljhusa.com