Want to know about my new addiction? Liz Earle Naturally Active Skincare!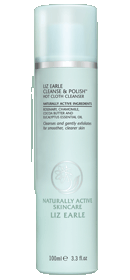 Cleanse & Polish
Hot Cloth Cleanser
This is a line of natural skin care products from the UK which contains plant oils and is free of mineral oils or crude oil derivatives that so many other skincare lines contain. All of the products are filled with yummy botanicals and pure forms of nature's good stuff. I love the Cleanse & Polish Hot Cloth Cleanser for the cleanest skin ever. After I take off my makeup, I apply this cream cleanser all over my face, then soak the muslin cloth (that it comes with) in hot water. I wring it out and wipe away the cleanser, splashing my skin with cold water when I'm done. It is quite a soothing little beauty ritual and your skin actually glows!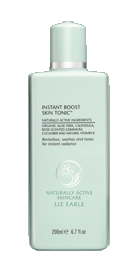 Next, I spritz on Instant Boost Skin Tonic for a little natural toning, then follow that up with what I call "Oil of the Gods." The Superskin Concentrate contains neroli oil, organic rosehip oil, argan oil and natural vitamin E and renews and restores total radiance. This stuff is liquid gold! I put it all over my face and chest and go through bottles of it. My African American friends can't get enough of the stuff and my husband uses it after he shaves.
My skin is super dry so I also use the Skin Repair Moisturizer and, I'm telling you, my skin has never looked better. It also feels good knowing that all these things going on my skin are good for me. I actually see the benefits. The line contains products for every skin type as well as products for the body, bath and men too.
As an established makeup artist, many beauty brands send me samples of their latest products for consideration. I only write about the items that I truly love and I always abide by Daily Makeover's Editorial Ethics Pledge in each of my Positively Beautiful posts.