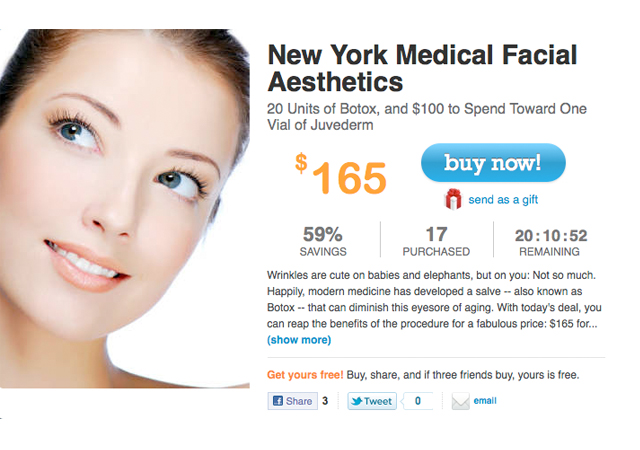 As I checked my email on my way into work this morning, I came across a deal on Living Social, that quite surprised me. Now, if you don't know what Living Social is you should actually check it out it's a site that offers savings on anything from restaurants to spas, and good ones at that.
But, today's deal is for Botox. I am never going to tell anyone not to get Botox I have in fact gotten it myself. I struggle with migraines and Botox is supposed to help. I'll try most anything once, so I tried it and it didn't help, and that was that. My problem with this deal is that we seem to be making Botox more and more accessible, and more readily available for anyone and everyone. It seems as if we're not just saying that for those women (and men) who choose to hide their wrinkles can now get Botox, but also young women (it's affordable!).
If all it took for a wrinkle-free face was a click of the mouse and $165, don't you think you'd be tempted too? Is this the message we're supposed to be sending? Why can't the site market towards different age groups? Or, do you think our society should be responsible enough to decide for themselves?
Let us know your thoughts in the comments section below.