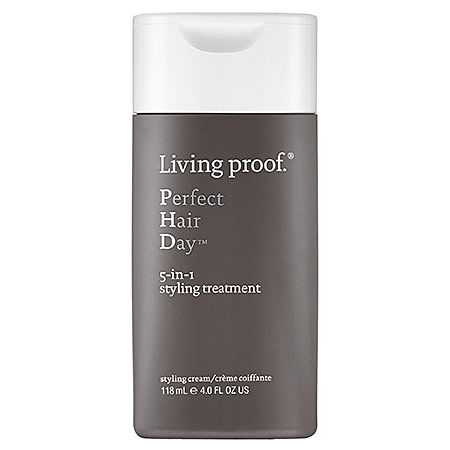 At Beauty High we constantly have new products crossing our desks and are always on the hunt for the next best thing. "The One Thing" is our way of sharing with you that must-have product that you need to introduce to your lives right now, whether it's from a drugstore or a department store. 
Besides getting a cat eye right on the first try and being able to paint your own nails without getting polish on your cuticles, having a good hair day every day is basically every girl's dream. Yes, it's pretty near impossible (you can curl your hair all you want, but when a freak storm hits, you're out of luck), but there are a few tricks to having the perfect hair day. Namely, just that, Perfect Hair Day, a styling treatment from Living Proof.
MORE: 25 Tips For Never Having a Bad Hair Day Again
What Makes It Different: 
Designed to be used on damp hair, this styling treatment works to give you volume, shine, heat protection, UV protection and static control, so it covers all your bases.
It's formulated without parabens or sulfates, which can damage hair.
This styling product gives you the perfect balance between volume and shine — and we all know how difficult that can be to achieve.
Why It's The One Thing: 
We often work with a cocktail of hair products to get the exact look we're trying for, but this one product from Living Proof does everything you need in one application. One product means saved time and money, two things we can never really have enough of.
Where to Buy: Living Proof Perfect Hair Day 5-in-1 Styling Treatment, $26, Sephora.com