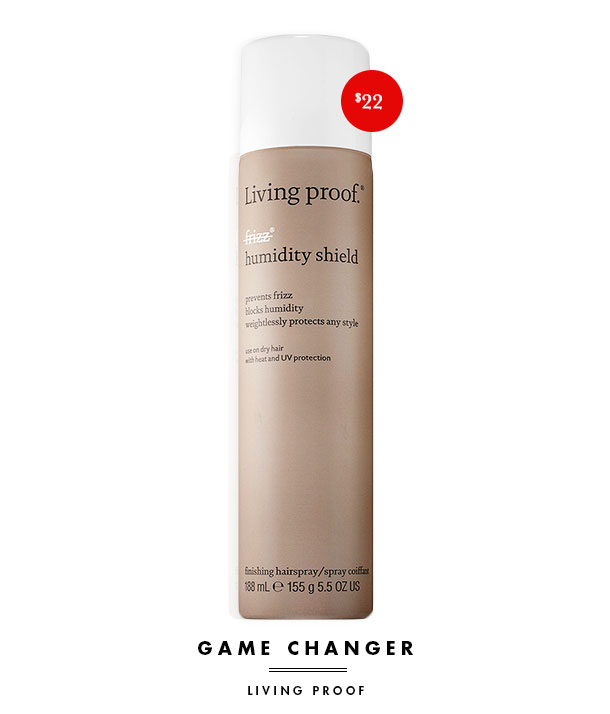 I have difficult hair. There, I said it. It's color-treated within an inch of its life, prone to crazy flyaways, very wavy and there's a LOT of it—which means I'm used to fighting some pitched battles with my lovely locks. This time of year, my major issue is with static and humidity: as soon as I bust out my fall scarves or go to walk my dog on a misty fall morning, my hair turns into a static-y, puffy triangle. As you can imagine, it's not a good look.
And that's why Living Proof's No Frizz Humidity Shield ($22, Sephora) is such a miracle: it completely eliminates frizz, static and flyaways from my hair's vocabulary, all while making it shampoo commercial-grade shiny. To say that this has changed my hair game forever is an understatement—this spray has replaced three other products in my hair care routine, and does a better job by itself than they ever did.
To begin with, this spray comes in Living Proof's signature matte finish packaging—which means it doesn't slip out of your hands, even if you're fresh out of the shower. It's an aerosol, and the spray itself is very fine (so it won't weigh down even fine hair) with a fresh scent that doesn't linger unduly. I apply it after blowing my hair dry and straightening it, but my curly-haired friends have told me that they spray it throughout their hair while it's still damp and let it air-dry for flyaway-free curls. I also love the finish; there's none of that oily, slippery feeling that so often accompanies sprays like this. It feels clean and almost dry as soon as you spray it in, then melts away so all you're left with are the results.
And the results are actually insane. There's no turtleneck or scarf on earth powerful enough to give me static frizz when I have Humidity Shield in my hair, and I positively laugh in the face of weather that would have formerly reduced me to a sad puffball. My hair game has genuinely been transformed—and I couldn't be happier. Bring it on, fall. My hair is ready.
More from Daily Makeover: This Brow Pencil Will Change Your Life