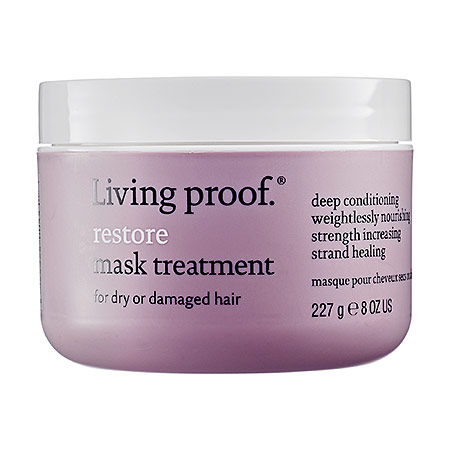 At Beauty High we constantly have new products crossing our desks and are always on the hunt for the next best thing. "The One Thing" is our way of sharing with you that must-have product that you need to introduce to your lives right now, whether it's from a drugstore or a department store.
A great hair mask makes you want to leave it in your hair and have it seep into your tresses for hours on end. The last thing we need is another product just sitting in our bathroom useless, and considering the amount of torture we put our hair through, it deserves a spa day (or at least a spa hour) once in a while. Enter Living Proof's Restore Mask Treatment, just the thing to get us back on track, and a product we've been sure to use time and time again.
MORE: 5 Easy DIY Hair Masks
What Makes It Different:
It's goal is to rebuild the protective layer of your hair, reducing the dryness that comes as a result of every day styling.
This mask is especially beneficial for girls with curly or chemically treated hair.
The mixture, designed by Living Proof's in-house scientists, includes Polyfluoroester, a moisture-controlling molecule that does wonders by leaving your hair hydrated and lighter than it was before the treatment.
MORE: Damaged Hair: Ways You've Been Drying Out Your Hair Without Knowing It
Why It's The One Thing:
Unlike many treatments, the effects of this mask will last past when you actually use the treatment. Frizz, dryness and split ends practically cease to exist when you introduce this little wonder into your beauty routine. Plus, it's formulated without parabens, sulfates or GMOs, so your hair won't be getting hit with any harsh chemicals.
Where to Buy: Living Proof Restorative Hair Mask, $42, Sephora