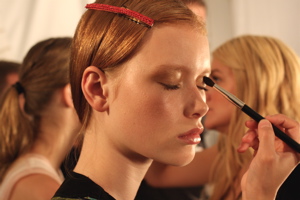 Butler creating her soft focus eye shadow look.
Contrast was the name of the game backstage at Phillip Lim where the grown-up romantic crossed paths with little girl simplicity.
Nars lead makeup artist Lisa Butler dreamt up a soft makeup look in a variety of textures, evoking a soft and romantic, yet thoroughly grown-up feel. "I wanted to avoid hard lines so everything is soft and super blurry," she said. "The idea is not to be harsh."
She started off by applying concealer where needed, then swiped a bit of The Multiple in Luxor (a new shade coming out this winter) on the cheekbones to add a soft glow and gently sculpt the face. She then used a new product for spring, Orgasm Illuminator, all over the face, concentrating on the cheekbones.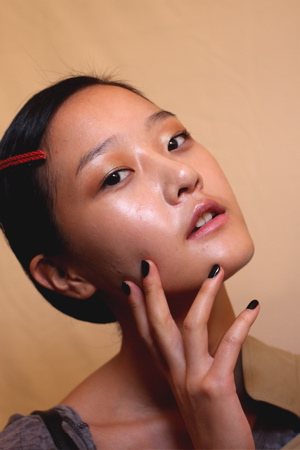 The finished look.
For the eyes, Butler used Duo Cream Eyeshadow in Camargue, another new shade for fall. She swiped the golden moss as wash over the enitre eye, then used the sienna shade in the crease for soft definition. If the color needed adjustment due to the model's skin tone, Butler also applied a bit of Mousson Cream Eyeshadow, a shimmery khaki green launching this winter, over top. Using a brush she applied the lilac D. Gorgeous Eyeshadow, new for spring, underneath the lashline, creating a very subtle, soft line.
Using a lip brush she combined Cruising Lipstick a creamy mid-tone pink hue that's also new for spring, with a bit of Luxor for a slightly shimmery lip look.
Lead hairstylist Odile Gilbert based her youthful hair look on a photo of Surrealist photographer Lee Miller that featured the model/photographer with a short Flapper-style bob. "It's the definition of both modernity and simplicity," said Gilbert.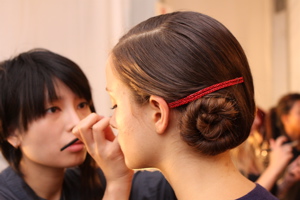 The coiled up "snail bun."
She started off by creating an extreme side part on the left side of the models' hair. She then began to twist the hair so that it swooped around and then coiled up, creating a "snail bun" that was placed on the lower left side of the head.
She sprayed hair with a little bit of hairspray, then placed a red beaded barrette, created by the designer, across the top line of the bun. She then placed another barrette at the right temple, giving the chic bun that "young little girl look, with the side barrette."
CND Nail Production Manager Roxanne Valinoti whipped up a dramtically dark and deconstructed nail that created a stark contrast to the soft makeup and innocent hair.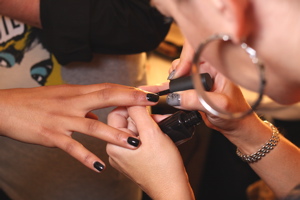 Valinoti applied one coat of Oil Slick, a bluish-green tinged black from the new Colour Effects line. She then took Gold Sparkle, a chunky gold glitter top coat and painted one half of the nail with it, applying it asymmetrically. This created an effect she described as "almost like oxidization."