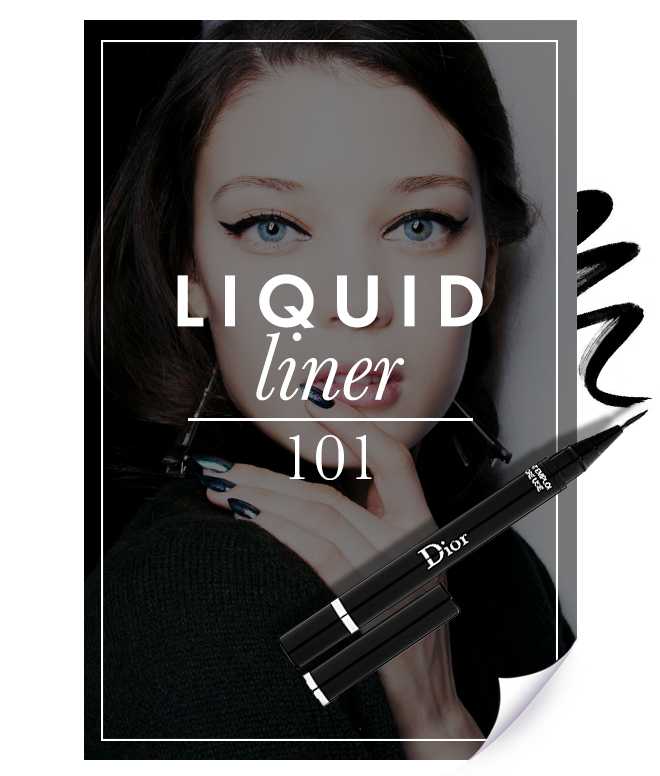 We love, love, love liquid liner: It creates the most defined liner look as opposed to pencil or gel, and it tends to last longer, and with stronger pigment, than other formulations. Its singular downfall? To the uninitiated, approaching liquid liner application can be nothing short of terrifying. Because we're borderline evangelistic about just how easy it can be once you're comfortable with the process, we're prepared to share our best advice on how to master liquid liner in no time at all.
If you're a liquid liner virgin, a liner pen or marker, like Stila Stay All Day Waterproof Liquid Eye Liner ($20, stilacosmetics.com), is the best (read: easiest) place to start. The "ink" is contained within the body of the pen, so there's no mess to be made, and the familiar shape makes them easy to handle and apply. Because the tip is generally broader than other liners, it's not as easy to draw super-defined cat eye wings or very thin lines, but you can always cheat by using a Q-tip to fine tune the look after.
Sponge or felt-tip wands like the one that comes with Maybelline Line Stiletto Ultimate Precision Liquid Eyeliner ($7.99, ulta.com) are slightly more advanced, because they involve dipping the wand back into the tube to reapply, but once you get the hang of it, the glide of a flexible felt tip makes it simple to master any look. A liner with a long tapered brush, like MAC Liquidlast Liner ($19.50, maccosmetics.com), is the most difficult to apply and certainly only for the steady-handed, but it's the go-to for sharp, detailed looks and getting closest to the lash line.
Half the battle of mastering liquid liner is choosing the right product and brush that's the most comfortable for you, but there are also tons of tips and tricks you can get acquainted with to make applying liquid liner practically child's play. Below, you'll find 15 of our favorites—they're indispensable for getting the best liquid liner look possible, whether you're going simple or severe.
1. Rest your elbow on a table as you apply the liner to keep your arm and hand steady. It can also be a huge help to rest your hand against your cheek as you draw.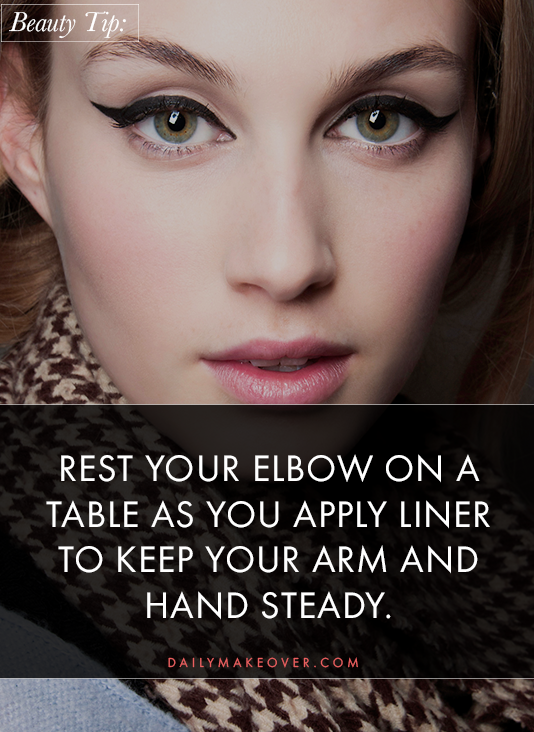 2. If you have a steadier hand with a pencil liner, try lining your eye with that first, then go over with liquid for a seamless finish.
3. Start at the middle of the eye rather than the inner or outer corner, then trace backward, starting at the inner corner and working your way toward the middle. This helps you to get a better idea of your eye shape and how to outline and define the eye without the panda effect.
4. When doing a cat eye or other winged look, start your wing close to the lower lash line at a diagonal angle following the upward curve of the upper lashline, extending outward, and connect from the top, rather than forming it from the top lash line.
5. If you're doing full eye makeup including both liner and shadow, always apply your eyeshadow first. It creates a dry base for the liquid liner to adhere to.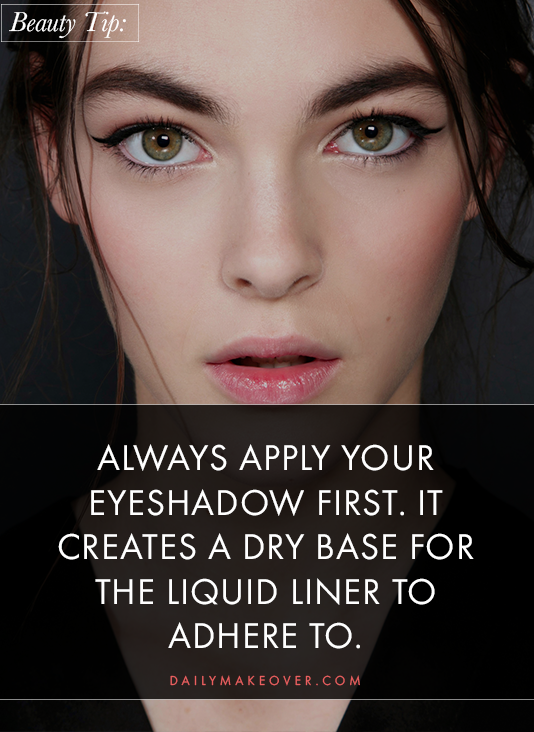 6. Always do the rest of the eye before the wing so that you have a good idea of where it should be placed, rather than forming the rest of the eye around it.
7. Try using a piece of scotch tape as a stencil of sorts to keep both of your hands free. It's super easy—just tear off an inch-long piece of clear tape, then place it diagonally against your lower lash line extending toward your temple for a clean angled line.
8. Struggling with creating the shape of your wing? Begin by creating a tiny triangle that connects the top and bottom lash lines, then go back and add a tiny flick with the very tip of the brush.
9. If you're really shaky on application, try first lining the eye in small dots and dashes, then connecting them by tracing over the entire eye.
10. When lining the upper lid, always use one finger from your opposite hand to lift the eye slightly to hold the skin taut. This gives the closest, tightest line possible and eliminates fears of the brush "skipping" over skin.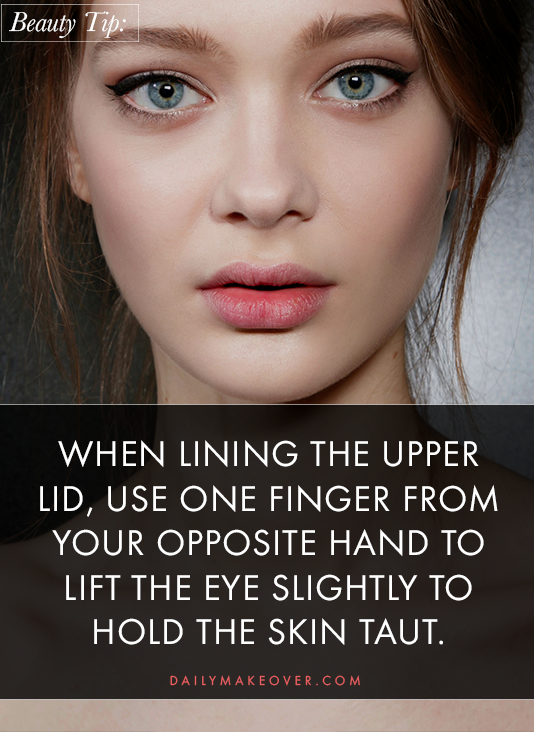 11. If you find that your liquid liner is getting messy upon application, then the brush may be too wet. Try running it along the back of your hand first to remove extra product, then take to the eyes.
12. Make good use of Q-tips: They're extremely helpful for thinning out wings and lines so you can fine tune without having to start over.
13. A perfect swoop may appear as if it was applied in one long flick of the wrist, but moving slowly and retracing your lines is the best way to avoid making mistakes.
14. Try applying a light coat of mascara before you begin lining your eyes. A slightly stiffened row of lashes will give the liner brush somewhere to rest, making tracing the lash a breeze.
15. If eyeliner goes astray during application, use your regular concealer to clean it up and blend it into the rest of your makeup.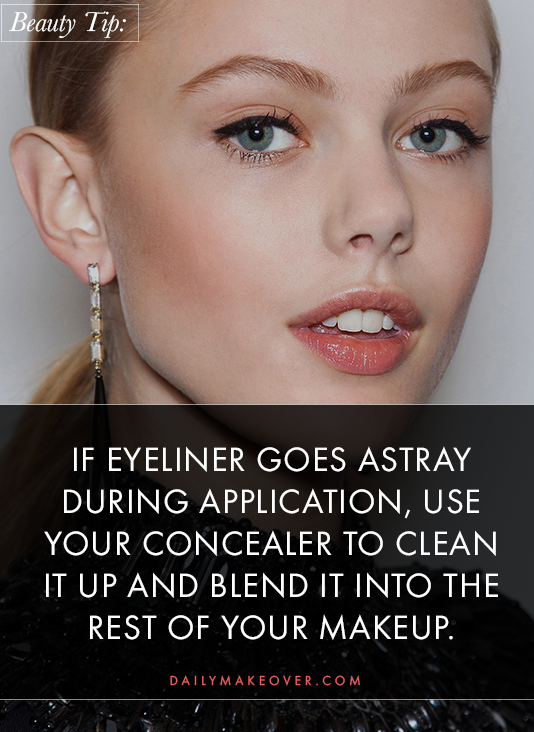 Read more: Easy Eye Liner Tricks That Completely Change Your Look