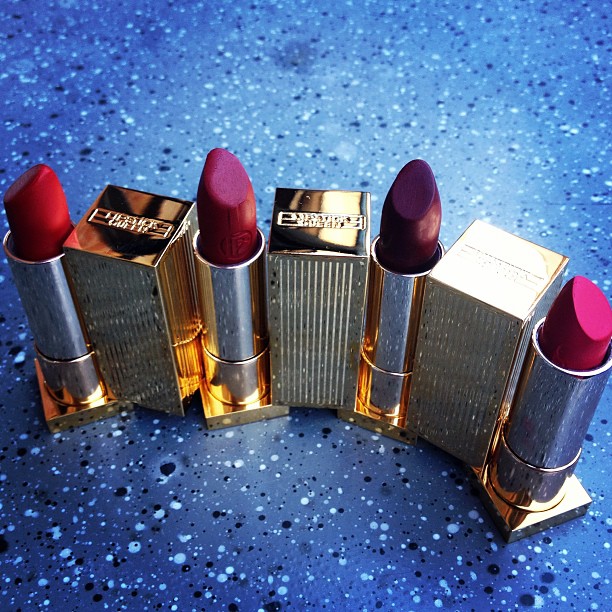 It's not exactly a secret that we love lipstick. From bright pink to deep burgundy to rich nude, we've never met a lipstick color we didn't like. What we have met, though, is lipstick that's left our lips dried out, cracked, stained and needing a freshening up before we're even done with our morning coffee. Sure, there are tricks for getting your lipstick to last all day, but nothing makes life easier than a lipstick that looks good, feels good and lasts on its own. WIth that in mind, meet Poppy King's new Velvet Rope lipstick collection, or as we like to call it, the Holy Grail of lipsticks. If you're already a lipstick wearer you'll love it, and if you're not a lipstick wearer you'll become one.
What Makes It Different:
With a feeling like lip balm and the high impact look of lipstick, the Velvet Rope collection gives you the best of both worlds, plus it lasts forever.
We're huge fans of packaging, and this lipstick tube is one of the best packages we've ever seen. With a heavy gold tube that's got a magnetic closure, it's a sturdy lipstick that feels luxurious before you even put it on.
On top of looking and feeling good, it's infused with a mint scent. Say goodbye to that wax-like fragrance you're used to and hello to a breath freshener built into your lipstick.
Why It's The One Thing:
The second you apply the Velvet Rope lipstick, you feel like you're slipping past a velvet rope and into a glamorous party. From the wear to the look to the scent, not only can we not find anything wrong with this product, we keep thinking about how right it is.
Where to Buy: Lipstick Queen Velvet Rope Collection, $50 each, Available September 2013 at LipstickQueen.com
Image via Instagram
More From Beauty High:
The Lipstick Queen's Poppy King Teaches Us How to Get Our Lipstick to Stay Put
101 Beauty Tips Every Girl Should Know
Eye Makeup to Balance Bold Lipstick