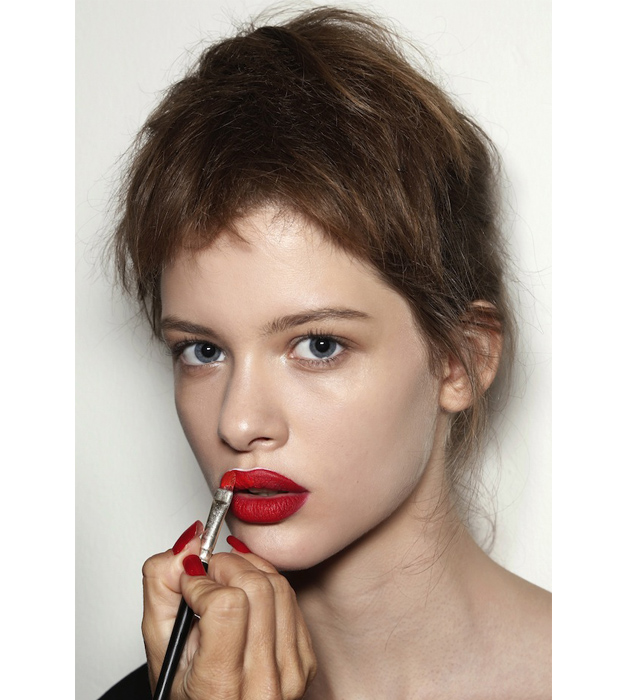 When it comes to lipstick, we have so many questions. There's always the external of how you get it to stay put without feathering, cracking, fading or otherwise falling apart, then there's also the order in which liner and lipstick should be applied. Also, when do you add gloss and where? Clearly, inquiring minds want to know.
We reached out to the "Queen of All Things Lipstick" and founder of Lipstick Queen, Poppy King, to help shed some light on our lip issues. From pencil to gloss to stick and back again, here are her tips for the best lip of your life:
How can we get our lipstick to last without fading or cracking?
A bit of a fade is inevitable, but a good quality lipstick – one where the pigments are rich and dense – will make fading less of a concern. You can also avoid cracking with a lipstick that's got lots of nourishing ingredients that moisturize and keep lips supple and plump, like those from my line, Lipstick Queen. If you're worried about color bleeding into the tiny cracks around the mouth, lip liner is your best friend! It seals the lines to keep the lip look precise and defined.
What's the best way to use lip pencil? Should you always use nude or should you always get the color that matches a lipstick color?
I recommend using it over the top of your lipstick to perfect the line. Aslo, always match the shade to the color rather than using nude.
What's the best way to layer lipstick and gloss?
It's quite nice to put a dab of gloss on the center of your lower lip, over the top of your lipstick. If you're wearing red for example, a dot of Big Bang Theory in Energy will look amazing. Jean Queen gloss is also great when layered over the lipstick of the same name. That's my version of double denim!
How do you find your perfect red lip color? How about your perfect nude?
When it comes to pinpointing the best shades for your complexion, my advice is just keep trying! The right shade will light up your whole face, as if the sun has come out from behind a cloud. Also, if you're trying to wear bold colors but you're not used to it, give yourself time to adjust. Wear it around the house and get comfortable, like breaking in a pair of heels!
Image via Imaxtree
For More Lipstick Tutorials From Beauty High:
Makeup Tips for Redheads: Learn How to Pull Off Everything From a Bold Lip to Eyeshadow
Research Proves Bold Lipstick Makes You Look Younger: Do You Agree? 
How to Pull Off a Bold Lip For Your Holiday Party