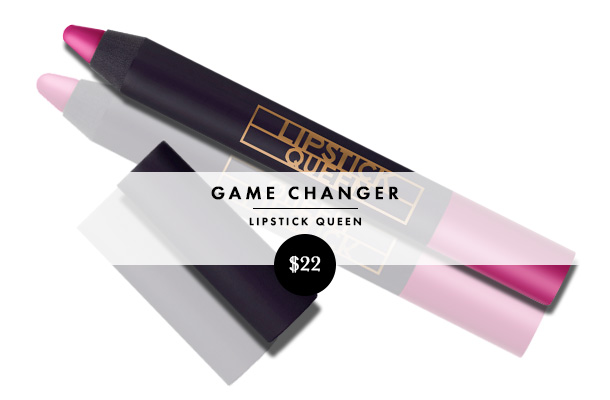 I outright hoard lipstick. To be fair, I prefer to regard my bags and boxes full of lip color as a "collection" rather than a hoard, but you know a hoard when you see one. I guess what makes it a hoarding situation and not just a healthy love of lipstick is the fact that I don't really wear any of them. That isn't to say that I wouldn't like to—rather, my natural lip shape seems incompatible with the shape of most lipsticks, which means that a lipstick application, for me, involves a lot of fumbling with a lip brush.
As someone who constantly seeks to whittle down both the time spent and effort exerted on their beauty routine, the patience required of wielding that tiny brush to whip lip color into submission does not equate into my morning, noon, or night, not now and perhaps not ever. So when I do choose to sport lipstick in a manner that isn't carelessly slicking on a shade just slightly different from my skin tone, I have a real type. That "type" is a lip pencil-lipstick hybrid, a chunky, pigmented pencil that renders a lip brush obsolete as you can line and fill with precision in one go.
Unfortunately, such breeds are few and far between. I've got my preferred standby, of course (here's looking at you, NARS Velvet Matte Lip Pencil), but rarely does a new release target this very specific subcategory of lip color. Leave it to Poppy King, the crown Lipstick Queen, to come forward with just the thing. Lipstick Queen Cupid's Bow implies the arrow-like precision of, yes, Cupid's bow, and it follows through not just on that claim but its promise of superior hydration, intense staying power, and a velvety satin matte finish that makes lips look full and luscious.
It's a winner all around, from the vibrant pigment to the actual shades it comes in—rich reds, standout corals, vivid pinks, yes please—to the way it feels on lips. And yes! The shape! It fits perfectly in the hand, especially as it relates to my imprecise, generally ineffective fingers, and goes on smooth: no flaking, no chalkiness, no nonsense. In short, it's a dream—a dream on a midsummer night, even.
Read more from Daily Makeover: 5 Perfect Lipsticks for People Who Hate Lipstick