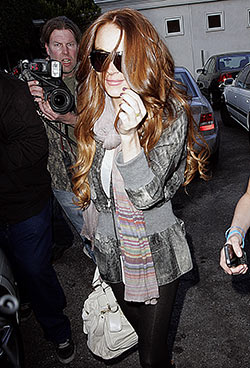 Lindsay Lohan is a hair color inspiration today like Linda Evangelista was back in the day. It seems like every time I turn around she has a new hair color. When she first came on the scene — OK maybe the first time I really paid attention — was in Mean Girls as a gorgeous red head, but way before that in 2002 she was sporting blond highlights. If we skip ahead to 2005 Lindsay took the plunge to super blonde and then in 2006 she was a deep brunette. Now she is back to the reds – my favorite on her – with a rich auburn base with light auburn ends. I like it.
When I'm doing consultations in the salon I talk about Lindsay's different hair colors a lot. She is a great example of a woman who is not afraid to change it up. When a woman says "I would love to be a blond but it would look terrible on me" or "I don't think I could ever be a brunette" I use this color chameleon as an example.
If you have been toying around with the idea of a change remember — there are as many different colors that would look good on you as there is creativity between you and your colorist. It may take a couple of tries before you find the perfect blonde or the most devastating red, but give it a shot! I always train my assistants and tell my guests, hair color is only as permanent as the next application. So…why not?
Have you made a big change lately? LMK