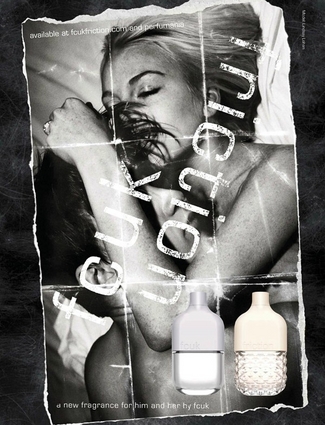 Photo: OhNoTheyDidn't
Lindsay Lohan has got to hire herself a new press agent, because someone in her camp thought it'd be a good idea to make her the new face of FCUK. (Insert foul pun here)
Try on Lindsay Lohan's hairstyles in the Makeover Studio
Enabling her career's suicidal tendencies, Lohan lent her nude likeness to the brand's print campaign for Friction, a fragrance for men and women. The photos were shot for Muse magazine back in 2010, a time when pics of Lohan topless and on all fours were considered shocking.
The actress was photographed by Yu Tsai, alongside (or rather, underneath) male model Petey Wright, the same photographer who snapped Lohan's recent Playboy pictorial.
Lindsay Lohan's Playboy spread leaked!
Hopefully Lohan will be able to hawk perfume better than Playboys, or FCUK will be facing the same poor sales Hugh Hefner saw when he plastered the troubled 25-year-old on his cover.
Friction for her promises to "keep him coming back for more" with a "feminine mix of hypnotic fruity florals." We're talking notes of vanilla, coconut, and "sensual warmth," whatever that means.