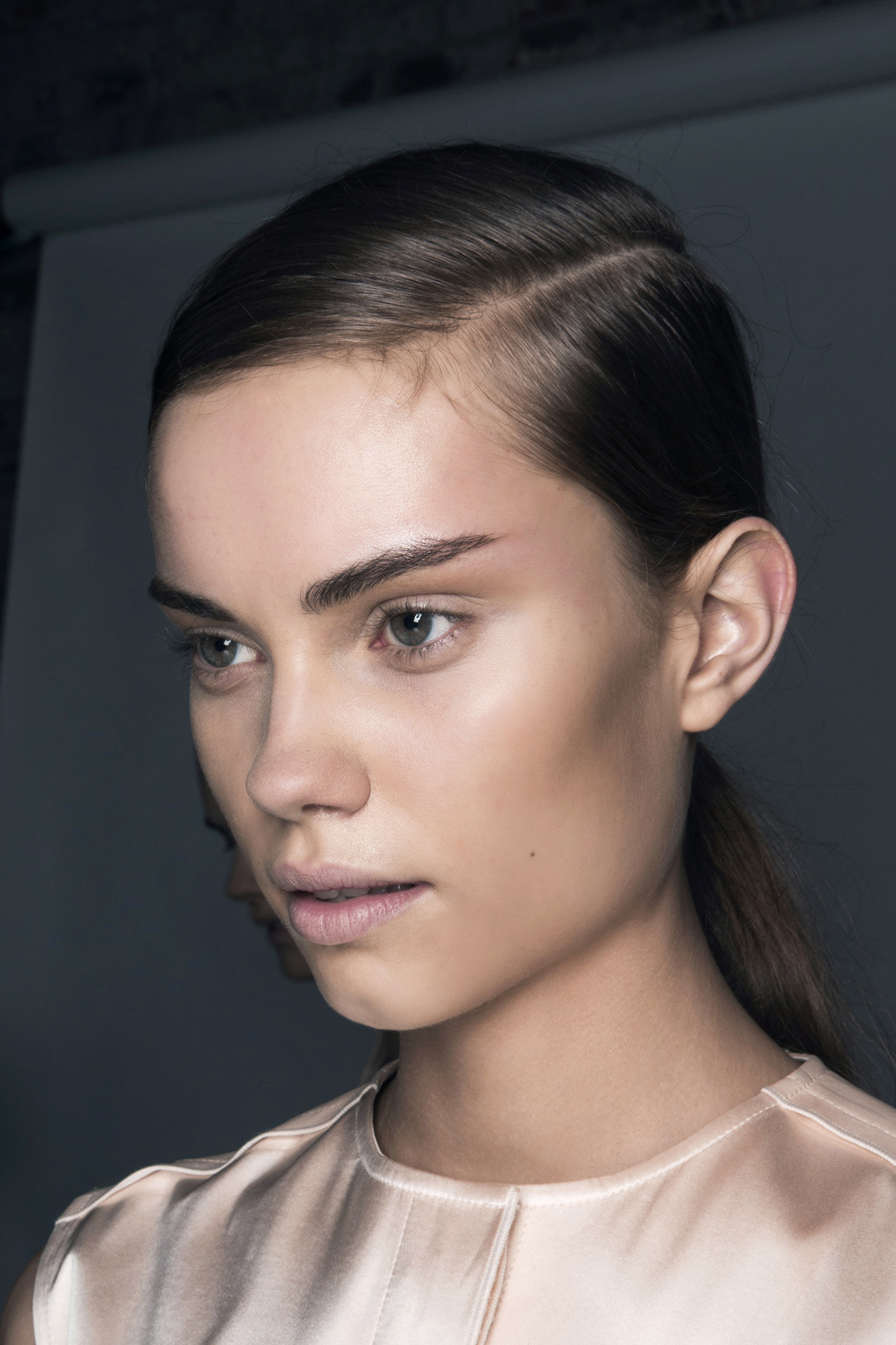 When we hear words like "lift" and "sculpt," we tend to assume they apply to the middle-aged and older crowd. Not so! No matter what your age, you can use tips and tricks like contouring to sculpt your face. With spring coming, who doesn't want that? Read on below for some amazing tricks!
"First, we figure out your face shape. Is it oval, long, round or square? Next we imagine an oval placed over your face (this is the perfect face shape because it's proportioned equally from forehead to eyebrows, eyebrows to tip of nose, and the tip of the nose to the chin). Then, we figure out from there what we need to focus on to get the face looking slimmer," says celebrity makeup artist Amanda Shackleton.
Step 1:  "I like to contour with a deeper powder about 2 shades darker than your skin color," says Shackleton. Powder blends better and looks more natural, but if it's for evening, you can use a foundation or concealer. "Dip a brush no wider than 1/2 inch in the powder and shake the excess off, then hit the areas outside the oval of your face with the brush, creating a softening effect," says Shackleton. You can repeat a few times if needed to get the effect you want, but be careful to blend well so it doesn't look streaky.
MORE: Ask an Expert: How Can I Contour My Face Like a Kardashian?
Step 2: Now you can chisel out your cheeks. "With a pencil, place it on the upper tip of the ear where it meets your temple and slope it on an angle till it reaches the outer corners of your lip. Repeat step one with the powder exactly where the pencil would be and bring it about 2/3 the way down the line," Shackleton says. Do not bring it all the way to the lips, we are just contouring the cheeks. Blend into your skin and repeat if needed.
Step 3: Continue with any other areas you may need that lay outside the oval. Now we highlight. "We need to create a 3D effect on the face, so we need to play lighter colors against darker for the right look. I use a shimmery light powder just above the contour on the cheeks," says Shackleton. For lighter to medium skin tones, try a silvery shimmer and for medium to darker tones, use a warmer gold shimmer.
Step 4: Hit the areas inside the oval with shimmer. Remember, just as we are trying to diminish areas of the face outside the oval with contour, we need to pop out the areas inside to make them appear bigger!
Step 5: Finish off the apples of your cheeks with your favorite blush and blend everything together. You'll see a significant improvement, and if you don't get it the first time, just keep blending and practicing. Take a selfie before and after to see the difference!
Image via Imaxtree