As most of us know, pulling a fashion show together takes teams of people and months of planning. From figuring out which fabrics to use to determining which lip color will coordinate best, every detail matters. Over the course of New York Fashion Week, we'll be sharing with you the "Life of a Look" in which a select few MAC Cosmetics artists walk us through each crucial step of planning the look for their shows.
A very pregnant senior artist for MAC Cosmetics, Gina Bettelli, took us in depth through the planning for the Kimberly Ovitz Spring 2013 show. Below, she walks us through everything from her initial meetings, to the makeup test and the show!
8/28 Prep for Kimberly Ovitz: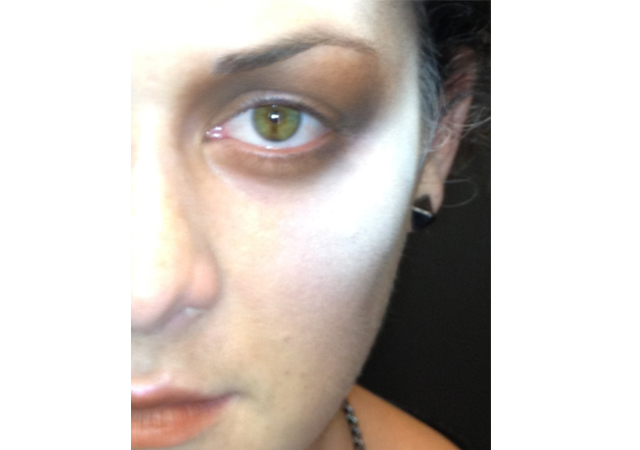 Kimberly Ovitz provided me with images of clay covered models and fresh faced, velvet skinned models. The common thread with these refeences is texture and the use of white on the skin. From the very extreme parched desert feel, to the high-end luxury pampered faces, the story is using textures in tints and tones. I practiced one concept on a colleague to go more extreme using MAC Chroma Cake in Pure White and eye shadoes in Saddle and Shadowy Lady.
9/5 Pre-Makeup Test: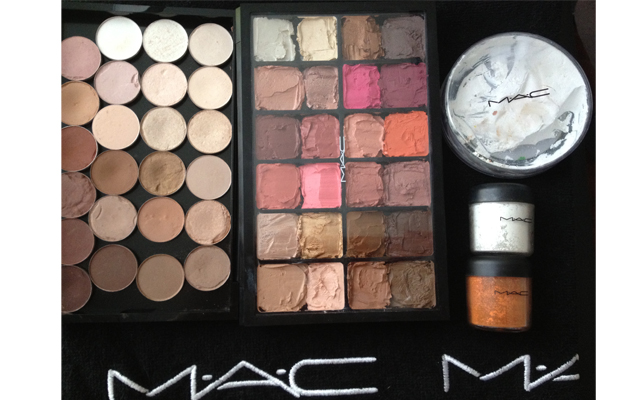 My thoughts before arriving to the test are about mimes, plaster, nymphs, white powdery textures, Mexican summers and pottery dust. The bridge between hair and makeup could likely be a Chroma Cake along the hairline…The key products I am armed with are Chroma Cakes, Matte Pigments, Sculpting Creams and Pottery-toned Milky Powders.
9/5 Kimberly Ovitz Makeup Test:
Seeing the collection for the first time — really beautiful! White, black, teal and ivory asymmetrical long dresses, shorts, bouses and hoods. the collection is accessorized with brushed metal cuffs, chokers and rings — very 90's with industrial trimmings. This takes my mind to Alanis Morissette, Indigo Girls and Red Hot Chilli Peppers Videos…
The Mood Board says:
Ritual
Creating Own Mythology
Nomad
Among the many images of red desert clay, Kate Moss in the 90's textiles and tribal ceremonies there are varying photos of Almagul Menliabeyva (experimental artist in Kazakhstan).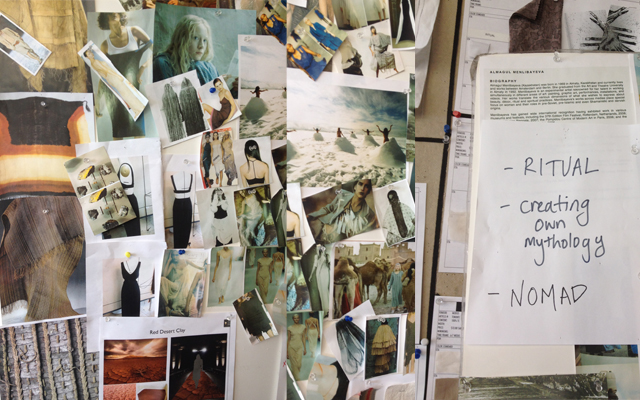 This brings up discussino of who is this girl—she is strong, cerebral, centered in her beliefs, yet still a nomad. We all agree on that! In terms of makeup, she is no-nonsense and slightly androgynous. Upon looking at the casting, I notice most of the girls have amazing eyebrows and I start to picture the look…Kimberly mentions how she loves the natural redness many of the girls have around their eyes from endless castings, and model life — she defines her beauty admiration in realness of the girl. No mascara or fuss in girly details. Well-groomed brows and a play on texture with the skin. The collection is strong in its palette, prints and accessories — the clay on the face is all wrong!!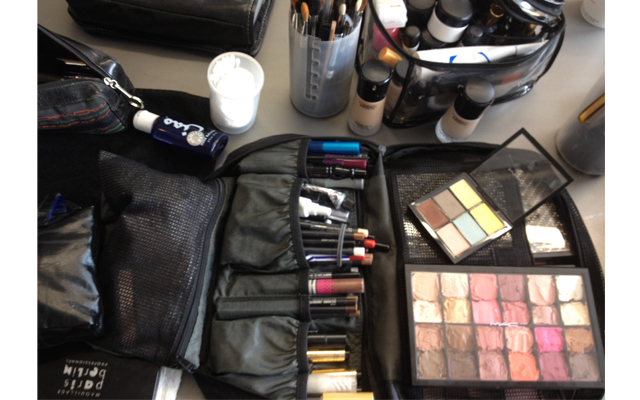 That is when I remembered the SS13 trend eye palette has a clay toned shade called top soil – perfect to translate model life redness around the eyes! I construct velvety skin much like the inspirational images from the beginning…sculpting creams define cheekbones and temples to show strength. All skin textures are natural matte, almost eggshell-like. I comb the brow hairs up and exaggerate a full, well-groomed shape reminiscent of 80's Cosmo covers…Kimberly acknowledges her love for this brow, and we have it!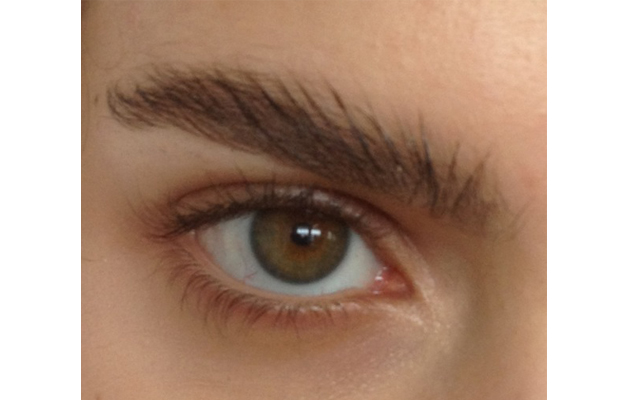 Once the hair was finalized into a loose fishtail braid, we all decided the makeup look was perfectly strong yet understated. My last question to Kimberly was "What about the shoes?" She says, no shoes. In fact, the runway is red clay. This solidifies the desire to embellish redness around the models eyes!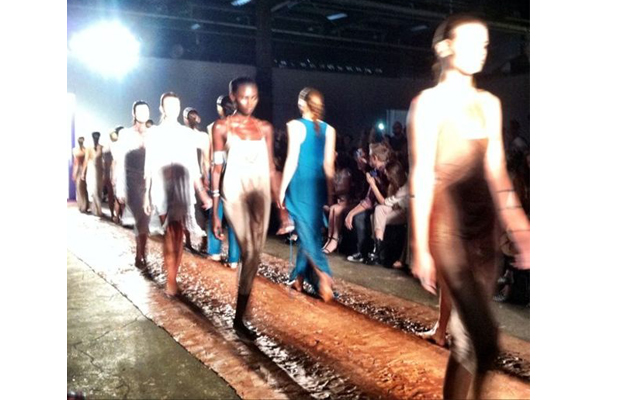 To follow Gina as she goes through the rest of her Fashion Week journeys, make sure you're connected with her on Twitter @MAC_Gina_B and of course, follow @BeautyHigh for more NYFW updates!