I'm not going to lie; I do love fall. I love a good blazer, and the clothes are just so darn cute! Plus if it's going to be hot, then I getter be at the beach and not schlepping around New York City. So bring on the apple picking! On Friday I decided to really "Fall" it up with my wardrobe.
Exhibit A: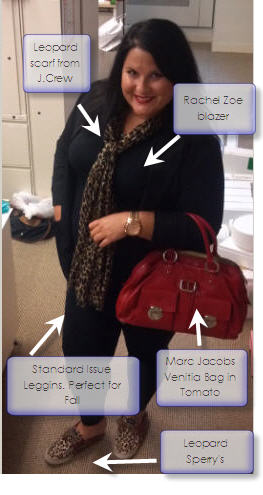 I got dressed with my Rachel Zoe blazer in mind which I wrote about here. Once I had the key item in place, the rest was easy.
I went all out with the animal print accessories, I know but I couldn't help it! It was Friday! I accessorized my leggings and fierce tomato Marc Jacobs back with my new, very favorite leopard Sperrys ($75.00) and my leopard scarf from J. Crew ($68.00). Throw on some red Chanel lipstick and I am good to go!
What is your fall wardrobe looking like? Are you going with the trends or starting your own?