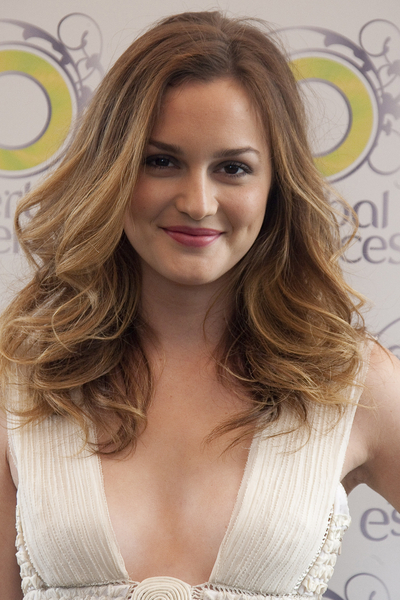 Photo: © Eduardo Parra/WireImage
Unlike her buttoned-up alter-ego Blair Waldorf, Gossip Girl star Leighton Meester isn't a slave to her headband. The well-coiffed starlet, who is the new face for Herbal Essences, is known for her long, lustrous mane that has an almost supernatural level of volume and shine. We sat down with the star and her stylist BFF Charles Baker Strahan to get his tips on how he keeps her hair looking so lush.
Leighton admitted that she doesn't often do her hair on her own and relies on Charles to style her mane. "The most that I usually do for myself is that I wash and condition my hair, which is a big deal," said Leighton. She describes her signature look as "the next day look. I like to just have it be relaxed," she says.
To create that volume, Charles uses the Herbal Essences Body Envy collection. "I like to be really judicious about how much product I use. With value brands, one of the things that people don't consider is that less is more," he says. He takes a golf ball size of Body Envy Volumizing Mousse and applies it to Leighton's hair when it is "sopping wet," then emulsifies it throughout her hair using his fingertips, being sure to rub it in at her scalp to get maximum root lift. Then, while hair is still quite wet, he squeezes it together, using the water as a conduit to help move the product throughout the hair. "This gives it a really nice, even coating that's still light, effortless and has a weightless feeling."
Charles then dries Leighton's hair using a diffuser, but no brush. "Her hair is naturally a little bit finer so in order to have as much variation as possible [not using a brush] helps create that much more volume," he says. To finish up, Charles sprays her hair all over with Body Envy Volumizing Hair Spray which, he says "literally creates volume in your hair when it's not there."
After seeing her hair in person, I can definitely say that Charles' trick for volume pays off–Leighton was giving me some serious hair envy! This full hairstyle has major sex appeal and is great for summer since it doesn't involve an excess of blowdrying or heat tools. Give it a try!