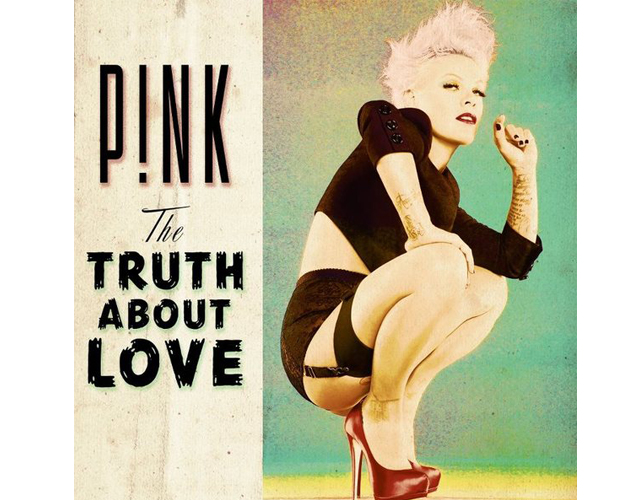 If you've never seen P!NK perform live in concert, add her show to your bucket list. Aside from her catchy songs and fabulous dance routines, the 33-year-old mother of a toddler has some high-powered aerobatic performances that give Cirque de Soleil a run for their money. Basically, imagine singing, entertaining a crowd, and flipping from a high wire all rolled into one night – we were pretty amazed. But, what may have been even more stunning than her 12-pack abs was that her makeup didn't budge all night, and considering the fact that she was springing through the air from one end of the arena to the other, that is quite the feat.
We spoke with P!NK's tour makeup artist, Yvette Beebe about her Truth About Love Tour look, how they chose the final direction for the beauty looks, as well as how they get them to last throughout the performances. Beebe noted that since the tour is generally themed around relationships, breakups and the different stages of love, they chose to blend both a soft and strong look together that would enhance P!NK's natural beauty. Below she walks us through both the products used on tour and the challenges that they face. Read on!
Beauty High: What products are you using for P!NK's makeup look? 
Yvette Beebe: I love using COVERGIRL on P!INK for its long lasting performance. I start with COVERGIRLs 3-in-1 Foundation, then use CG's Oil Free Pressed Powder Finish. On her eyes, I use Smoky ShadowBlast in Onyx Smoke and for eyeliner, LiquilineBlast in Black Fire. And of course, I use Clump Crusher by LashBlast in Very Black on her lashes – it lasts the entire show! For her lips, I use Jumbo Gloss Balm in Haute Pink Twist.
Did you try to coordinate with her costumes, or are they more about the complete performance look? 
Definitely! There are a variety of different costumes in the show so we kept one look soft and the other more smokey.
P!NK's concerts are obviously high-performance – how do you keep her products from streaking?
First, I start off with COVERGIRL + Olay Simply Ageless Serum Primer to prep the skin. Then I use COVERGIRL Outlast 3-in-1 Foundation and that does it all! It primes the face at the same time giving long lasting coverage. Then I use powder to set everything and keep it all in place.
Do you change the makeup look throughout the show (or the tour) or do you stick with one look?
We pretty much stick to one or two looks (soft and smokey) for each show since there's only about 30 second breaks between some songs. If we change anything, it will be her lip color.
Concert/performance makeup is obviously heavier than daily makeup, are there tricks to getting it off (and keeping your skin healthy)?
Her makeup comes off easily with a standard makeup remover. What helps, is making sure her skin is always moisturized. I moisture her skin before I apply makeup and when I take it off. I also encourage her to moisturize daily in the early a.m. and before bed.
Do you have any favorite behind-the-scenes prep moments?
Whenever Willow (P!NKs daughter) comes in the room, it puts a smile on everyone's faces and hearts. Or when listening to P!NK sing out loud while we get ready…Beautiful!!!